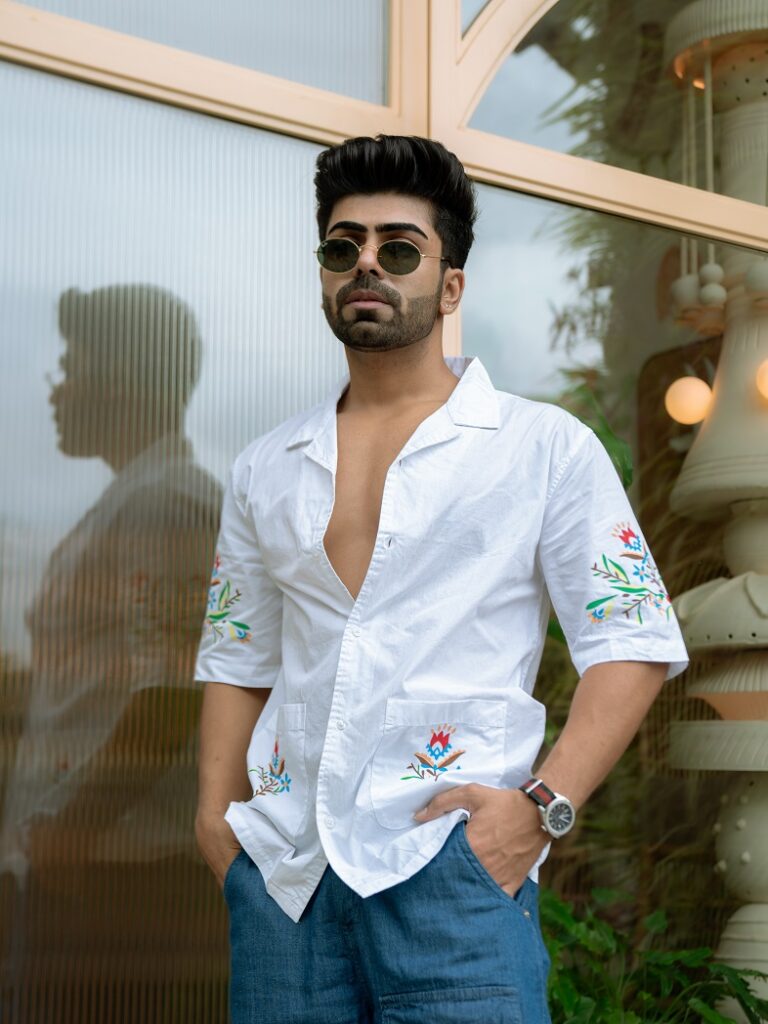 September 15: marks Hindi Diwas, a day dedicated to honoring the importance of the Hindi language. Hindi, widely spoken across the diverse states of India, holds a special place in the hearts of many. Particularly in the glitzy realm of the Hindi Film Industry, fluency in Hindi is not just an asset but an expectation for celebrities. On this significant occasion, model-turned-actor Akash Choudhary took a trip down memory lane, candidly sharing his journey of grappling with the Hindi language, shedding light on the challenges he faced due to his weak Hindi diction within the entertainment industry, and revealing how he overcame those obstacles.
Sharing his journey with Hind Akash recalled, "I've always spoken English. I began my education in a convent school, which was a proper English medium school. I come from a large family, and my parents were determined to raise us in a way that prepared us to face the world. During our growing-up years, speaking English and getting a good education were highly valued."

He added, "It's interesting how things have changed suddenly. Nowadays, it's considered cool not to know English. I believe we should take pride in Hindi and learn how to speak it well. However, we should also be proficient in other languages to navigate the world effectively. In certain situations, like in the Supreme Court or at official hearings, knowing English is essential. You need to know your native language, whether it's Hindi or a regional language, and, of course, you need a good education."

Discussing his experiences in the entertainment industry, Akash opened up about the hurtful instances where he faced insults and ridicule due to his Hindi skills. "When I moved to Bombay, I had a strong English accent. I studied English literature both in my Bachelor's and Master's degrees. But it was challenging for me to audition for roles because my Hindi pronunciation was very weak and I had to work on it. People used to make fun of me. They used to say, 'Yeh Apne Aap Ko Angrez Samajhta Hai. India Mein Rehkar Iska Hindi Accent Clear Nahi Hai.' As an actor, you need a clear diction and accent," he shared.

However, Akash did not let the comments affect him and stood strong. "I've always been determined not to let my strengths become my weaknesses. I won't let anyone put me down just because I can speak English well, especially if they can't. Some people have an inferiority complex about it, saying things like, "Oh, you don't know Hindi," and so on. This has become more prevalent due to social media," he expressed

"While it's important to take pride in our language, whether it's Hindi or any other, I believe we should be proficient in both Hindi and English. I'm proud that I can command both languages effectively. In the real world, confidence is key, no matter which language you're speaking, whether it's Hindi, English, Marathi, Punjabi, or any other," concluded Akash.
On the professional front, Akash gained fame by winning Mr. India Worldwide and later Mr. India Eco International in 2018, propelling him into the entertainment world. His television debut was in 2014 on Channel V's show, Dare 3, where he showcased his acting talent. He further solidified his popularity by participating in MTV's Splitsvilla Season 10 in 2017. Akash played Viraj Singhania on Zee TV's Bhagya Lakshmi. Additionally, he's ventured into production, aiming to create engaging content that connects with audiences.