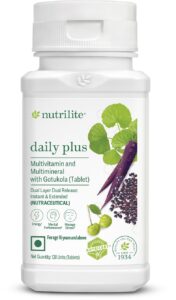 New Delhi, October 16, 2023: Reinforcing its prowess in research and innovation towards its efforts to foster a healthier nation, Amway India, one of the country's leading FMCG direct-selling companies, recently introduced an all-new Multivitamin and multimineral health supplement, Nutrilite Daily Plus for a #PlusLife. This revolutionary formulation is power-packed with 24 essential vitamins and minerals and double the quantity of plant concentrates*. Nutrilite Daily Plus is the first-ever product in the Amway portfolio with a breakthrough innovation of Dual Layer Dual Release Formulation. With holistic wellness gaining momentum among consumers today who are conscious of mental well-being along with physical health, Nutrilite Daily Plus is infused with Gotukola, a hero ingredient known for its stress-reducing properties.
Amway Nutrilite Daily Plus for #Pluslife
• A revolutionary formulation for holistic wellness with a Higher Dose of 24 Vitamins and Minerals (V&M)
• Dual Layer Dual Release for better efficacy
• 13 V&M and 4 herbs in immediate release (45 mins) and 11 V&M in extended-release layer (6 hours) giving extended hours of nutrition support
• Powered by Plant Concentrates – 135 mg plant concentrates
• Gotukola (added at a clinically tested dose of 120mg), acerola cherry, purple carrot & elderberry
• Nutrients in the supplement support Physical health (Immunity, Energy, and Nervine health) and Mental Health (stress, calming effect, and mental performance)

Commenting on the launch, Mr. Ajay Khanna, CMO, of Amway India, stated, "As per a survey by Mintel, about 75% of Indians believe that consuming vitamins, minerals, and supplements regularly helps them achieve overall health and wellness[1]. Additionally, 74% of Indians suffer from stress[2] due to everyday busy lifestyles, work pressure, and limited physical activity. Therefore, along with the nutrition support, added help on stress management is a big plus! Being one of the leaders in the health and wellness space, we have been consistently striving to offer need-based recommendations to help people achieve their health and wellness goals through our flagship brand Nutrilite, the world's no 1 selling vitamins and dietary supplement brand[3] which brings together the best of nature and the best of science. Through Nutrilite Daily Plus, the latest introduction to our nutrition portfolio, we aim to empower individuals to embrace a #PlusLife – an existence that thrives on the principles of holistic well-being, where both physical and mental health are cultivated, and potential knows no bounds."

He further added, "We are immensely proud to introduce Nutrilite Daily Plus, a revolutionary new Multivitamin & Multimineral health supplement with increased plant concentrates* and the goodness of Gotukola, a hero ingredient with a long history of use in traditional and Ayurvedic medicine to support mental health and stress management. Additionally, we have for the first time introduced a Dual Layer Dual Release Formulation with a combination of immediate and extended release to maximize absorption conditions and provide better support. This remarkable product exemplifies our dedication to building a healthier nation, and reinforces our position as a company driven by research and innovation."
Notably, Nutrilite Daily Plus proudly attains a significant feat as the first Nutrilite product in India to achieve NSF Certification—a globally recognized insignia synonymous with product safety and quality. This achievement further underscores the product's reliability and emphasizes Amway India's commitment to offering top-notch, dependable solutions for enhanced well-being.
Dedicated to helping people live better, healthier lives, Amway India continues to strengthen its presence in the health and wellness sector. To this end, the company is constantly innovating its products and developing unique seed-to-supplement products under the Nutrilite brand, the world's number-one selling vitamins and dietary supplements brand[4]. All Nutrilite products are backed by Amway's strong legacy of scientific research, making them an effective way to maintain one's health.