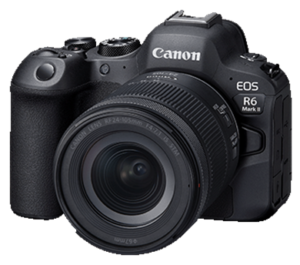 Father's Day is just around the corner, and it's time to celebrate those amazing dads who deserve something truly extraordinary. But let's face it, dads who are tech enthusiasts can be quite particular about their gadget choices. So, why not inspire your techie dad to indulge himself with a gift he'll cherish forever?
This Father's Day, fuel his passion for photography and ignite his creativity by surprising him with a state-of-the-art camera from Canon India to capture treasured moments from his travels, preserving memories that will last a lifetime. Alternatively, if he is someone who works remotely, simplify his life by surprising him with a high-quality printer, making his work-from-home experience more convenient. To make your search easier, we've meticulously curated a selection of products straight from the house of Canon India.
Canon EOS R6 Mark II – The Game Changer
The EOS R6 Mark II packs some stunning specs for both still image and video shooters, making it the perfect all-around hybrid camera for enthusiastic amateurs as well as those taking initial steps into the world of professional photography. It offers a host of redefined professional video production features to overhaul basic performance and revved-up still shooting features. R6 Mark II is the first EOS line camera to have focus breathing correction and combined with existing autofocus speed adjustment, it allows for granular control for focus transitions.
Approx. 24.2MP full-frame CMOS sensor
6K RAW HDMI out, 4K 60p (6K Oversampling) & FHD 180p
Up to 40 frames per second (fps) & up to 8 stops image stabilisation
Supports both 5GHz and 2.4GHz wireless connections
Canon EOS R8 – Create Wow Now
Canon India strengthens its mirrorless camera portfolio, and launches two new offerings; EOS R8 and EOS R50 – Canon IndiaLooking to take your videography to the next level? Then Canon's latest full-frame camera, the EOS R8, is the one for you. This powerful camera features a Movie Digital IS that corrects tilt and stabilizes images, giving you smooth and steady footage even when shooting handheld. Plus, with the ability to record in cropless oversampled 4K at up to 60p and Full HD at up to 180p, the EOS R8 is perfect for capturing every detail of your subject. And if you're looking to add some extra drama to your footage, the camera provides two options for recording high dynamic range video in 10-bit 4:2:2 —HDR PQ and Canon Log 3.
Approx. 24.2MP full-frame CMOS sensor & approx. 461g
4K 60p (6K oversampled) with Canon Log 3 & FHD 180p
Up to 40 frames per second & EOS it AF X
PIXMA G1730-Making work a breeze
G1X3X_Mini_blk_AS_FR_cl_en_362x320For all the dads operating from their home offices, PIXMA G1730 printer, from Canon's latest range of PIXMA series is here to help maximize productivity with high print yields. This high-performance printer combines low-cost printing with easy operation and maintenance, alongside being compatible with small ink bottles for greater cost efficiency. Also gone are the days with occurrences of ink running out, thanks to its refillable ink tank.
Print
Print Speed (A4, ISO): up to 11 / 6 images per minute (imp) (mono/color)
USB 2.0
PowerShot V10-Vlog your way
PowerShot V10: Your Pocketable Content Creation Kit – Canon IndiaIs your father a 'less hassle with less equipment' kind of person? Then, look no further. The latest addition to the Canon family is PowerShot V10 camera which not only offers high-quality footage and seamless experience but is also slim and ergonomic with form factor. A content creation powerhouse, it comes with an integrated retractable, tiltable stand that unfolds to provide tripod-like support whenever and wherever you need it. Taking the experience, a notch higher, the camera also supports real-time delivery methods such as live streaming, which can be done directly to Facebook or YouTube via the Camera Connect app without the hassle of complicated settings.
Weighs only 211g with Built-in Stand & Microphone
4K UHD 30p with 25.4-mm CMOS Sensor & Image Stabilisation
Wide-angle Lens, Face Tracking & Smooth Skin Tone Mode
PIXMA G2770 Printer– Refillable Ink Tank Printer with LCD Display
Another high-performance all-in-one printer, PIXMA G2770 combines low-cost printing with a backlit LCD display for easy operation. This compact printer fits perfectly in tight spaces with ease, and its easy-to-replace maintenance cartridge makes maintenance hassle-free.
Print, Scan, Copy
Print Speed (A4, ISO): up to 11 / 6 images per minute (mono/color)
USB 2.0
Canon EOS R50 – Move into a new realm
EOS R50 is an APS-C model that's specially designed for effortless vlogging and content creation. It has a 24.2-megapixel APS-C sensor and comes equipped with impressive features Canon India strengthens its mirrorless camera portfolio, and launches two new offerings; EOS R8 and EOS R50 – Canon India that eliminate the need for tinkering with settings. It can capture 6K-oversampled Uncropped 4K video and record in Full HD at 119.88 fps and 4K at up to 29.97 fps. The camera is lightweight at only 375g, perfect for consumers who are always on the move. Effortlessly capture breathtaking photos with a burst shooting speed of up to 15 frames per second, ensuring perfect accuracy. This feature enables you to seize captivating moments with exceptional clarity, as it delivers an impressive resolution of 24.2 megapixels.
Approx. 24.2MP APS-C CMOS sensor & approx. 375g.
4K 30p (6K oversampled) & FHD 120p
Up to 15 frames per second & EOS iTR AF X