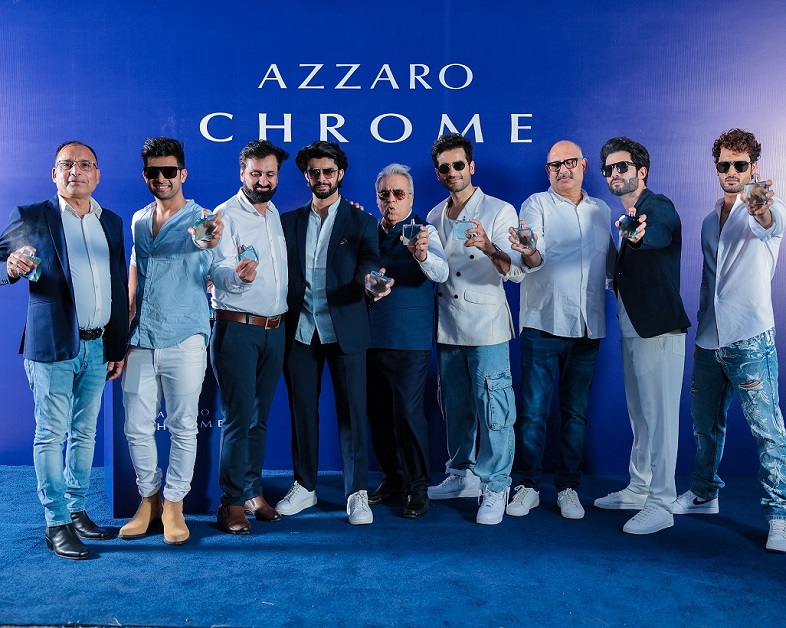 New Delhi, June 15, 2023: Azzaro, the renowned luxury fragrance brand, hosted an event that celebrated the timeless bond between fathers and sons, in partnership with the Global SS Beauty Brands Limited. a subsidiary of Shoppers Stop. This event aims to highlight the power of the present moment, the deep confidence in life, and Chrome's life philosophy: Smile At Life Together.
Azzaro has long recognized that a father is not only a figure of authority but also a trusted life guide, shaping the journey of their sons. With this event, Azzaro pays tribute to this beautiful bond by encapsulating the wisdom, experience, and values that fathers impart to their sons. The event was graced by renowned celebrities such as Dinesh Singh, Prabhat Chaudhary, Sanjay Keswani, Vaibhav Keswani, Kuku Tacker, Karan Tacker, Rahul Sharma, and Umar Riaz. They had arrived with their fathers to commemorate the bond and the brand philosophy.
Each fragrance within the Chrome collection is meticulously crafted to evoke emotions and leave a lasting impression, a testament to Azzaro's commitment to excellence in perfumery. Building upon the success of their renowned Eau de Toilette and Eau de Parfum, Azzaro's latest offering Chrome Parfum is poised to take the Indian market by storm. It is scheduled to be available in India by the end of 2023.
Azzaro's collaboration with Global SS Beauty Brands Limited., a leading distribution partner in India, will ensure that customers have easy access to the new Chrome Parfum collection in top beauty and retailers.