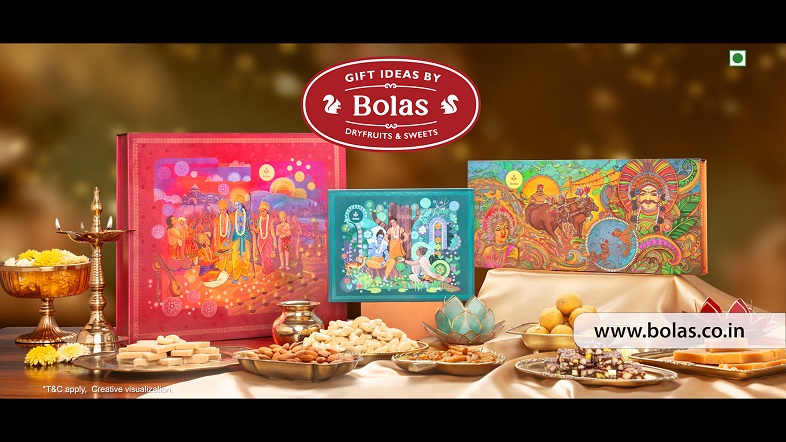 Bengaluru, 7 November 2023: With the festivities around the corner, Bolas, a prominent Indian manufacturer specializing in the Dry Fruits, Nuts, and Sweets category, has launched a unique gifting collection. Bolas Heritage series beautifully depicts the stories from epics of Ramayana, Mahabharata, and folktales of Karnataka through aesthetically designed gift boxes. Offering an array of options, from assorted sweets to nutritious nuts and dried fruits, Bolas presents multiple meaningful gifting options. The brand aims to acquaint consumers with remarkable Indian tales with its beautiful Heritage Gifting series.
In their creative approach, Bolas ingeniously integrates the art of storytelling into its packaging bringing India's heritage and traditions to the forefront. Furthermore, these meticulously crafted packages also offer the additional appeal of becoming cherished keepsakes, meant to be safeguarded and cherished for the years ahead.
Speaking on this launch, Mr. Rajat Kamath Bola, Director, Bolas Agro Pvt Ltd, says " Bolas Heritage series of gifting is our tribute to stories from Ramayana, Mahabharata and Karnataka's folklore. We have tried to weave six decades of experience in the dry fruits industry to provide a truly Deepavali Gifting experience. They include nuts packed in reusable glass jars or resealable packages. The sweets are prepared in-house and they remain fresh for over 3 months, so that customers don't have to worry about their freshness when the sweets reach their loved ones."
For the period of festivities, Bolas brings a delightful blend of nourishing and delectable treats, striking a perfect balance between healthful indulgence and delicious sweets that leave a lasting impression. Adorned with colorful packaging, these gift packs consist of an assortment of nuts, dried fruits, and delicious sweets, like Kaju Katli, Mysore Pak, etc. all beautifully packaged in a decorative festive packaging.