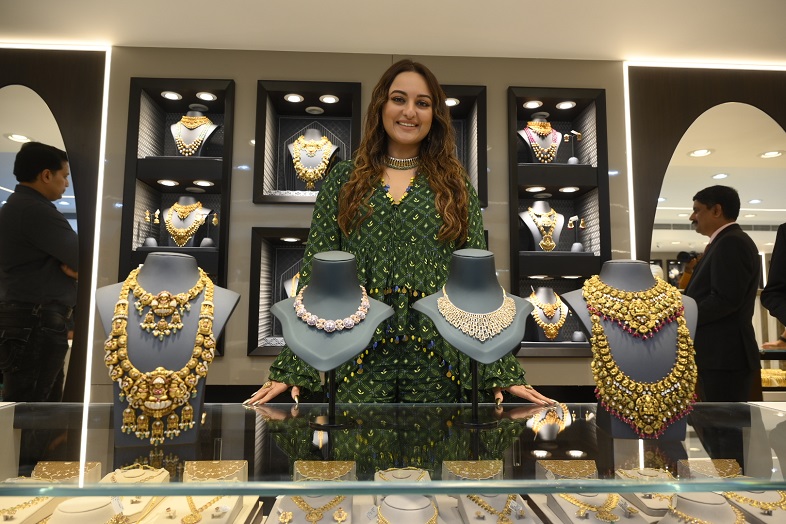 Bengaluru, 9th October 2023: Kalyan Jewellers, one of India's most trusted and leading jewellery companies, today launched its redesigned showroom at 100 Feet Road in Koramangala. Bollywood star Sonakshi Sinha inaugurated the showroom, which features an extensive range of designs from various collections of Kalyan Jewellers. Patrons can expect state-of-the-art facilities with world-class ambience, providing an unparalleled experience.
On this occasion, Bollywood star Sonakshi Sinha said, "I am delighted to be a part of these grand celebrations; this magnificent showroom is a testament to the brand's unwavering commitment to delivering an unparalleled shopping experience to the people of this. It gives me immense pride to represent Kalyan Jewellers – a brand that stands for trust, transparency, and customer satisfaction. I am confident that patrons will enjoy the revamped shopping experience."

Talking about the new showroom, Mr. Ramesh Kalyanaraman, Executive Director of Kalyan Jewellers, said, "As a company, we have achieved huge milestones and taken major strides towards creating a holistic ecosystem to enhance the customer shopping experience. At Kalyan Jewellers, we are constantly working towards improving and providing best-in-class and curated experiences to customers. Staying true to the company's core values of trust and transparency, we would like to extend gratitude to our patrons for their support and love over the years."
Celebrating the launch, Kalyan Jewellers announced a special Diwali offer – with a minimum purchase of Rs. 1 lakh, customers will receive a complimentary 1gm gold coin for every Rs. 50,000 spent.
The jewellery retailed at Kalyan Jewellers is all BIS hallmarked and goes through multiple purity tests. Patrons will also receive Kalyan Jewellers' 4-Level Assurance Certificate, which guarantees purity, free lifetime maintenance of ornaments, detailed product information, and transparent exchange and buy-back policies. The certification is part of the brand's commitment to offering the very best to its loyalists.
Kalyan Jewellers' all-new showroom offers Muhurat – the bridal jewellery line curated from across India. It also features exclusive sections featuring Kalyan's popular house brands such as Tejasvi (Polki jewellery), Mudhra (Handcrafted Antique Jewellery), Nimah (Temple Jewellery), Glo (Dancing Diamonds), Ziah (Solitaire-like Diamond Jewellery), Anokhi (Uncut Diamonds), Apoorva (Diamonds for Special Occasions), Antara (Wedding Diamonds), Hera (Daily Wear Diamonds), Rang (Precious Stones Jewellery), and the recently launched Lila (Coloured Stones and Diamond Jewellery).