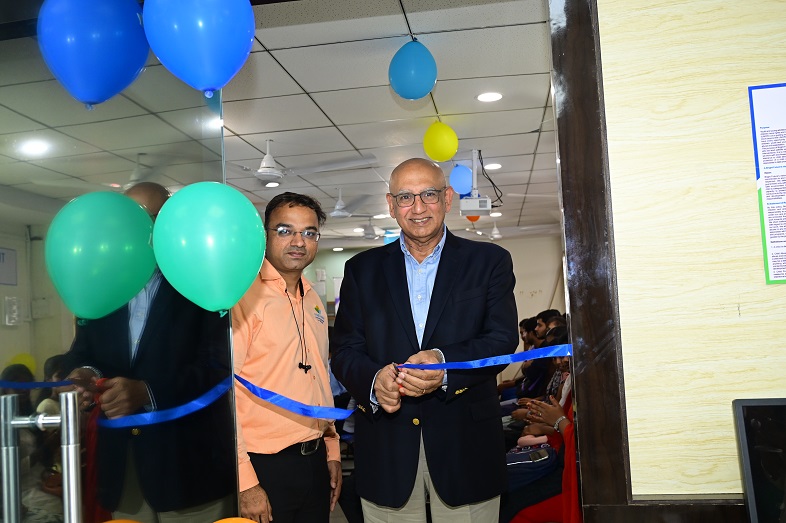 Hyderabad, Telangana: Bright Future with support from MTAR inaugurated a new training and development center atBalanagar, Hyderabad. The center will provide skills training to young people from marginalized communities to facilitate sustainable livelihoods. The program will be providing IT-based specialized training, career guidance, and life skills support to help enhance confidence and obtain gainful employment leading to a better life.
The inauguration ceremony was conducted in the presence of our Chief Guest, Mr.G.V. Satish Reddy, Chairman – CSR, MTARand Mr. Kishor Palve, Founder & CEO, Bright Future.
The new center is conveniently located for the target communities in Hyderabad's Balanagar neighborhood. Modern infrastructure and the strictest safety and hygiene regulations are in place, especially for the hopefuls who will be receiving training there. After successfully operating 16 centers in Mumbai, Pune, Delhi, and Bengaluru throughout the course of its 13+ years of existence, this is Bright Future's 17th operational center in India.
Mr. Kishor Palve, Founder & CEO, of Bright Future, said, "I extend my heartfelt gratitude to the dedicated teams of MTAR and Bright Future, to the aspirants, their parents, and our community stakeholders for making this possible. Our goal has always been to reach more young people while preserving their means of subsistence. Youth empowerment is one of the main issues of our nation, and I'm happy that we can work together to address this enduring barrier. It is crucial that we, as conscious beings, take the required actions to support the youth, the neighborhood, and our society." He further added, "Such collaborative efforts by all the stakeholders will surely take us closer to our mission to ensure a world where young people have the guidance to choose a better career. Lastly, I would also like to take a moment to thank our supporters – donor partners, employer partners, and volunteers for their continued support along with our efforts to serve the youth and communities over the last 13 years."

Mr. G.V. Satish Reddy, Chairman – CSR, MTAR said, "We are happy to collaborate with Bright Future's vision of creating opportunities for everyone to shine in this digital economy. We will continue to look for more opportunities to help improve lives, deploying the power of technology &I.T. skills to create significant impact and deliver maximum value to underserved communities. We deeply thank our partners and look forward to our continued engagement with all our stakeholders – thought leaders, NGO partners, experts, and government authorities to accelerate the impact of our work."