Inspired by real metal look, DecoMetal marks a new era for urban designs. Combining stunning real metal surfaces with the flexibility and practicality of laminate, a DecoMetal addresses the latest interior trends with textured, sculpted and brushed effects in contemporary colour styling. The unique and innovative surface solution is being manufactured by Homapal in Germany and has been brought home by Formica, the sole distributer of DecoMetal in India.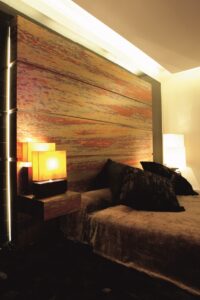 DecoMetal, being originated in Germany, reflects its highly durable character, backed by Kraft paper that additionally makes it easier to bond on varied surfaces. A DecoMetal lets the consumers experience real metal foil in a laminate product, giving the product a better-bending radius and performing exceptionally on varied surfaces. The exquisite surface solution offers unique coloring, sheen, and exceptional touch with a delicate and detailed finish. A DecoMetal is much lighter than solid metal, making it an ideal choice to create a range of ambiances, be it a cool business office or a warm luxurious interior to rustic looks and many more. It is an easy-to-maintain product that can be processed with wood machinery, thus saving installation time and cost.
DecoMetal, one of the finest surface solutions, is being manufactured using unique handmade technology where each texture is created by hand so that the pattern is not identical from sheet to sheet. The handmade textures combined with special surface treatment create unique color variations and thus a DecoMetal offers 100+ décor and design patterns to choose from. This high gloss item comes in five different color tones and has the capacity to replace a variety of metals ranging from Aluminum, Copper, and Brass to Stainless steel. The surface solution is also specifically treated to protect the metal from aging in the air.
The average Indian consumer is experiencing an increase in disposable income and thus the current Indian market serves as an ideal place to embrace premium and luxe products like a DecoMetal. The product not only enhances the aesthetics of a space but also reflects the personality of the dweller.