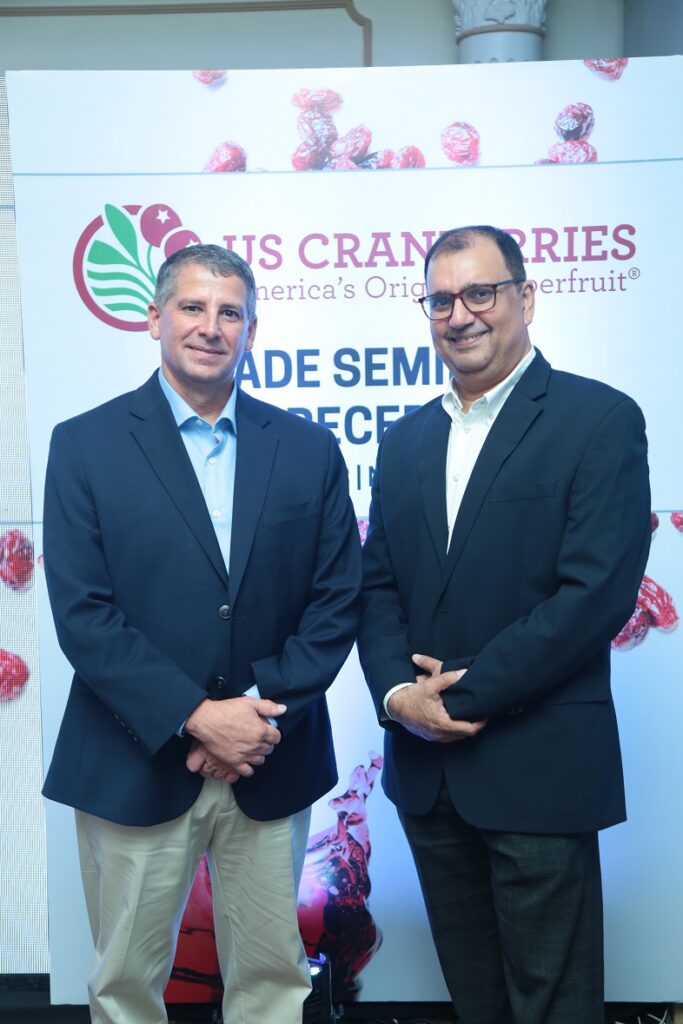 New Delhi August 2023 US Cranberries have already imprinted their versatility in the Indian market and are becoming a favorite among discerning consumers.
To showcase dried US Cranberries and cranberry juice to Indian trade including importers, distributors, retailers, and food processors, the Cranberry Marketing Committee organized a trade seminar in Le Meridien, New Delhi on August 22, 2023.
The event was addressed by Mr. Danny Raulerson, Executive Director, Cranberry Marketing Committee. Speaking on the occasion Mr. Raulerson, remarked "Among other things, the US and India share a long tradition of food. I am delighted to see how US Cranberries in India have gained popularity. I am particularly happy to see how US Cranberries are being integrated into traditional Indian foods."

Speaking on the market campaign for US Cranberries in India, Mr. Sumit Saran, In-Country Marketing Representative of CMC remarked, "India is a growth market for US Cranberries. We have seen tremendous demand for both dried US Cranberries and Cranberry juice in India. The demand is going to increase as more Indian consumers find out about this amazing berry. Dried cranberries are not only being used as an anytime snack but also as an ingredient in various Western and ethnic dishes. US cranberries are commonly available both with retail dry fruit sellers and e-commerce platforms," Saran added.
In collaboration with six celebrated Indian Chefs – Chef Sanjeev Kapoor, Chef Rakhee Vaswani, Chef Vicky Ratnani, Chef Harpal Singh Sokhi, Chef Nishant Choubey, and Chef Yogesh and a leading Indian mixologist Shatbhi Basu, US Cranberries India is conducting a series of culinary training program with five important hospitality institutes in Delhi, Mumbai, Bengaluru, Jaipur and Kolkata.
During the training programs, the Chefs and experts shared about their professional journeys, food philosophies, and ways in which cranberries can be incorporated into classic recipes from various cuisines and sections.
As a relatively new ingredient in the Indian market making sharp inroads with consumers,
US Cranberries have a big potential to be used creatively in Indian hospitality and restaurants. Food services focused on both Indian regional cuisines as well as popular international ones can be a big consumer of US Cranberries given the changing tastes and trends in metropolitan India.
In addition, one of India's premium food companies Haldiram's also showcased a whole range of traditional Indian snacks and mithais that featured US Cranberries. The dishes were loved by all present.