Navi Mumbai(S.N)– The rain Gods have finally blessed us, and the monsoon has arrived in full swing! While it does provide us with the much-needed respite from the scorching summer heat, nobody enjoys getting drenched or getting mud splashed on their clothes every time they step out! With limited entertainment options at home, monsoon evenings can feel quite drab. Well, Inorbit Mall Vashi has it covered with its ongoing 'Marvellous Monsoon Carnival.'
The carnival, which started on June 24, gives patrons options to keep themselves entertained from within the cozy confines of the mall coupled with an attractive setup based on a mystical theme through a host of fun shows, activities, and games between 5.30 PM to 8.30 PM till July 2. There are Chinese/African magicians who along with the dexterous jugglers and acrobats are leaving people in awe of their acts while the talented ventriloquists and the clowns are leaving people wanting for more! The special acts by the Malkhamb artists and carnival girls are captivating the audiences with their remarkable skills and graceful performances.
That's not all! There are multiple games and activities too such as the harness trampoline, human claw, and balloon shooting among others with something for people from every age group! The lively atmosphere created by these talented performers and the activities adds an extra layer of enchantment to the carnival, ensuring a memorable experience for all visitors.
Embrace the excitement on a dreary, rain-soaked day and make your way to Inorbit Mall Vashi for an exhilarating experience filled with non-stop action!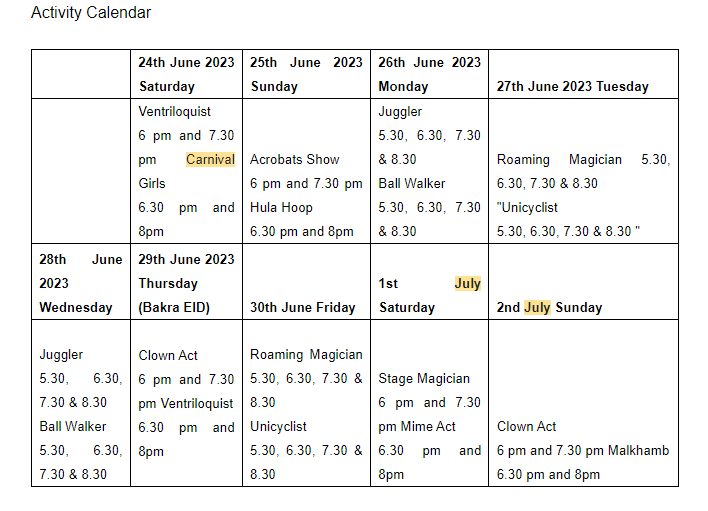 Where: Inorbit Mall, Vashi
Palm Beach Rd,
Sector 30A, Vashi,
Navi Mumbai, Maharashtra 400705
When: Every evening till July 2