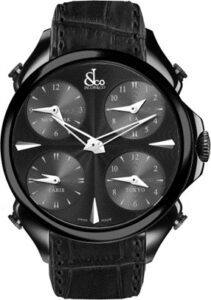 EthosMumbai, India – July 17, 2023 – Ethos Watches is thrilled to announce the opening of luxury watch brand Jacob & Co.'s first boutique in India, located at Palladium Mall in Lower Parel, Mumbai. With a legacy of over 25 years, Jacob & Co. has continuously pushed boundaries in the world of timepieces and jewelry, captivating celebrities, watch collectors, and trendsetters alike.
Ethos, a prestigious luxury retailer, proudly hosts the first-ever Jacob & Co. boutique in India. This signifies a significant milestone for both brands as they unite to provide Indian customers with unparalleled access to exceptional craftsmanship and iconic designs in one of India's most vibrant cities. Visitors can explore a stunning array of collections that embody the brand's innovative spirit and timeless elegance. The boutique showcases the Palatial, Epic x, Epic x Chrono, Brilliant, and Caligula collections, each boasting unparalleled craftsmanship and breathtaking beauty.
On this momentous occasion and the new partnership Yashovardhan Saboo, Chairman Ethos Limited says, "One of the most talked-about watch brands, Jacob & Co. has garnered a lot of attention among the watch collectors in the recent years, with their high-complication timepieces and dramatic displays. We are happy to be the ones who bring the brand to the Indian audience."

Jacob Arabo, Founder and Chairman, of Jacob & Co. added "We are very pleased to partner with Ethos for the Indian market. We share similar values of excellence and dedication. India has a great culture and appreciation of fine craftsmanship and jewelry. We believe our timepieces will be loved by our Indian clients."
Jacob & Co. has also forged exciting partnerships with renowned names in the entertainment industry, including Paramount Pictures, Warner Bros. Consumer Products, and DC. These collaborations have resulted in extraordinary timepieces and jewelry pieces that pay homage to beloved characters and iconic franchises. The brand proudly collaborates with megastars such as Rihanna, DJ Khaled, Drake, Ronaldo, and Messi, embodying the values of excellence, creativity, and individuality.
With its prime location in Mumbai and elegant ambiance, the boutique offers an immersive and personalized shopping experience for luxury connoisseurs.