Our parents have been there for us through thick and thin, offering their unwavering support, love, and guidance every step of the way. They have given us the world, and this National Parent's Day, it's time to show them just how much they mean to us. Although we can never repay their love, we can surely make their day unforgettable and show some gratitude this National Parent's Day!
From thoughtful gifts to treasured moments, we have a step-by-step guide to help you plan a day that will fill your heart with warmth and love. This Parent's Day, plan the perfect day for them using Simpl's hassle-free checkout network with its one-tap checkout solution!
Surprise them with quality footwear
Show your parents how much you care about their comfort by gifting them a pair of high-quality and comfortable footwear from Birkenstock. Whether it's a pair of cosy sandals or supportive shoes, these premium products will make their day even more enjoyable.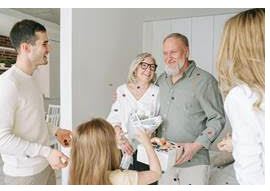 Gift them something they truly believe in
Indian parents often prefer Ayurvedic solutions, and what better way to show your understanding and care than by gifting them Ayurvedic products and remedies from Guduchi Ayurveda? These thoughtful gifts will be a testament to how much you value their well-being.
Help them stay active
Encourage your parents to stay fit and healthy with a smartwatch from Hammer. Their cutting-edge watch will not only help your parents keep track of their fitness goals but also add a touch of modern convenience to their lives, with their seamless Bluetooth calling feature.
Arrange last-minute gifts delivery
If you're a last-minute planner, don't worry! With Blinkit, you can conveniently arrange quick gift deliveries for your parents. Whether it's a bouquet of their favourite flowers or their favourite munchies and chocolates- these small thoughtful surprises (even if planned last minute) can make a big impact.
Fulfil their wanderlust
Give your parents the break they deserve by booking a vacation from their wish list through MakeMyTrip. Whether it's a serene beach destination or a mountain retreat, this getaway will help them escape the monotony of their daily life and help them create lasting memories with each other.
Treat your parents to an entertaining night
After a day filled with surprises and heartfelt gifts, take your parents out for a movie or a comedy show using BookMyShow. Whether they enjoy an action-packed blockbuster or a light-hearted comedy, an entertainment experience will be the perfect way to end the day with joy and laughter.
This step-by-step guide will ensure a day filled with warmth, love, and appreciation. So, let this National Parent's Day be a day they will remember fondly for years to come!