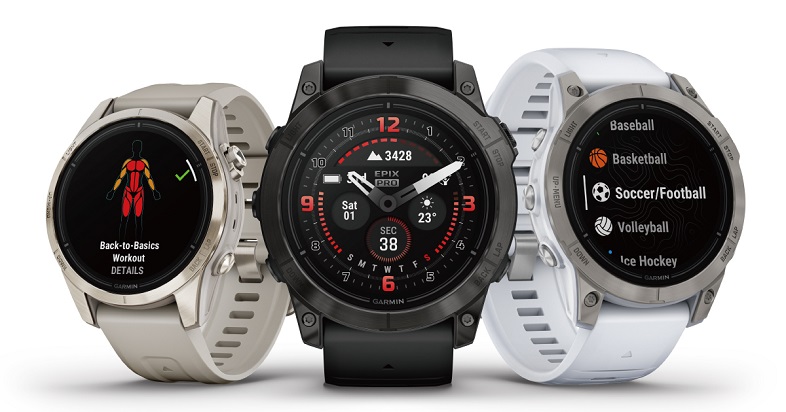 New Delhi, 4th July 2023 – Garmin India, a unit of Garmin Ltd. (NASDAQ: GRMN), is thrilled to announce the launch of two powerful and feature-rich outdoor smartwatch series in India: the fēnix 7 Pro and epix Pro Series. These next-generation smartwatches are designed to meet the demands of athletes, adventurers, and fitness enthusiasts, providing them with the ultimate performance and tracking capabilities.
The fēnix 7 Pro Series comes with a built-in LED flashlight and solar charging lens on every model and offers up to 37 days of battery life in smartwatch mode with solar charging and up to 139 days in expedition mode1. The epix Pro Series now comes in three sizes to choose from – 42mm, 47mm, and 51mm with a crystal-clear AMOLED display, rugged design, and impressive battery life, touting up to 31 days of battery life2 on the 51mm variant.
Speaking about the new smartwatches, Sky Chen, Regional Director of Garmin for South-East Asia & India said, "At Garmin, we are committed to providing our consumers a luxury experience with premium quality, innovation, and exceptional reliability. We're excited to bring the fēnix 7 Pro Series and epix Pro Series to India which is a true testament to Garmin's luxury and style offerings. Each smartwatch from Fēnix 7 Pro and epix Pro series is crafted with Garmin's top-notch capabilities, packing ruggedness, advanced features, and innovative technology, making it a perfect choice for urban athletes and outdoor enthusiasts. With this launch, we thrive at engineering products that will amp up your active lifestyle and embark on thrilling adventures with the epix Pro and fēnix 7 Pro by your side. To be your best, you need the best "
Premium Display
The fēnix 7 Pro and epix Pro boast stunning displays that enhance readability in various lighting conditions. With redesigned pixels, backlighting, and solar panels, the MIP displays offer exceptional brightness, adaptability, and power efficiency. The crystal-clear AMOLED display on the epix Pro Series and the improved MIP display on the fēnix 7 Pro Series ensure that users can easily view their data, maps, and notifications, whether they are training in the gym or exploring the great outdoors.
Rugged by Design
both smartwatches feature resilient and durable designs that can withstand the rigors of any adventure. The fēnix 7 Pro Series combines a fiber-reinforced polymer case with a steel bezel, while the epix Pro Series offers premium materials like sapphire and titanium. These rugged timepieces are built to military standards for thermal, shock, and water resistance, making them reliable companions for athletes and outdoor enthusiasts alike.
Long Battery Life
The fēnix 7 Pro and epix Pro Series deliver exceptional battery life to keep up with users' active lifestyles. With solar charging capabilities, these smartwatches can harness the power of the sun, extending the battery life even further. The fēnix 7 Pro Series offers up to 37 days in smartwatch mode and up to 139 days in expedition mode, while the epix Pro Series provides up to 31 days of battery life. Users can enjoy extended usage without worrying about frequent recharging, allowing them to focus on their adventures.
Preloaded Activities
Both smartwatch series come with a wide range of preloaded activities to cater to various sports and fitness pursuits. Whether it is a hiking, mountain biking, strength training, soccer, basketball, or racquet sports, users can track and monitor their performance with ease. The fēnix 7 Pro and epix Pro Series also offer specialized activities such as white-water rafting, motocross, and overlanding, ensuring that users can engage in their favourite activities while leveraging the comprehensive tracking and analysis features of these smartwatches.
Advanced Training Features and Performance Tracking
The fēnix 7 Pro and epix Pro Series offer advanced training features to help users optimize their performance. With metrics like hill score, endurance score, VO2 max, training load, and training status, users can gain valuable insights into their fitness levels and progress. These smartwatches also provide personalized training plans, real-time stamina insights, wrist-based running power, and pace guidance to enhance training efficiency and prevent burnout. Athletes can track their performance across a variety of sports and leverage advanced training tools to push their limits and achieve their goals.
Multi-Band GPS and Navigation
Equipped with multiple satellite positioning systems and multi-band GPS, the fēnix 7 Pro and epix Pro Series ensure precise positioning and accurate navigation for adventurers. With SatIQ technology, battery life can be greatly optimized even in challenging environments. The preloaded TopoActive maps, Trendline popularity routing, and course creation functionalities enable users to explore new routes and stay on track during their outdoor activities. Whether hiking, skiing, or golfing, users can rely on these smartwatches to provide comprehensive navigation features tailored to their chosen sports and adventures.
All-Day Wearability
Designed for all-day wear, the fēnix 7 Pro and epix Pro Series offer exceptional comfort and wearability. With advanced health and wellness monitoring features, including wrist-based Pulse Ox sensors, Body Battery energy monitoring, and advanced sleep tracking, these smartwatches provide valuable insights into your well-being. Stay connected on the go with smart notifications and enjoy convenience with features like music streaming. From the boardroom to the gym, these smartwatches blend style and functionality, ensuring they are the perfect companion for every part of your day.