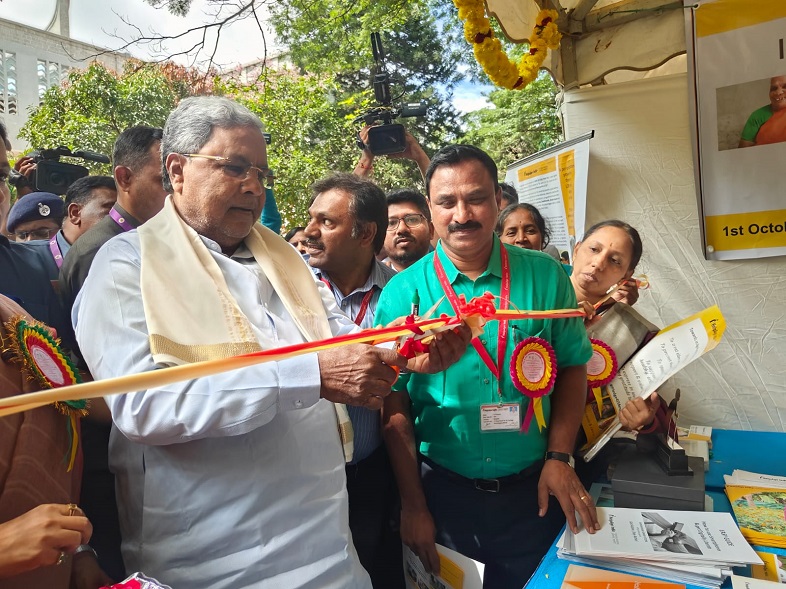 October 2, 2023, Bengaluru: HelpAge India is a leading non-profit humanitarian and development organisation that voices the concerns of elders to help them live a more dignified life. For over 45 years, HelpAge India has been working tirelessly for the cause and care of disadvantaged older people in India. We provide elderly services through various age-care interventions and multiple projects across 24 states, covering 175 districts. We reach out to 1.25 million needy elders through our nationwide programs for their rights and welfare.
On the occasion of the "International Day of Older Persons on October 1, 2023, the HelpAge India Bangalore chapter used this opportunity to bring the elder's issue to the forefront and submitted a memorandum to the Hon'ble Chief Minister of Karnataka, Shri. Siddaramaiah, at Ravindra Kalakshethra, Bangalore.
The following demands were put on the memorandum:
 A universal pension of Rs. 2000 to cover all elderly without income security in their advanced age.
The amount should be revised twice a year to account for inflation.
The procedures for application and renewal should be made easier so that elders do not face many issues in filling
MIS: automatic inclusion and renewal of pensions
Mode of disbursement—postal, panchayat office, and bank—should be as per the choice of the beneficiary.
Pensions should be seen as compensation for work left, as deferred wages, and not as a dole.
Why the state council for senior citizens?
The State Council for Senior Citizens was constituted via notification WCD/479/PHP/2007 by the Karnataka State Government.
The State Council was headed by the Hon'ble Minister for Women and Child Development, Director, Department of Differently Abled and Senior Citizens Empowerment, and also involved representatives from NGOs and senior citizens. The following activities were carried out under this council:
Meetings were conducted to review welfare schemes, maintain the welfare of parents and senior citizens, and improve delivery services.
Appropriate recommendations for welfare programs for senior citizens were made to the government.
Monitoring to ensure the improvement of the functioning of the organization.
It is regrettable that the State Council has not been functioning for the last few years.
Extending health insurance facilities
Increase the age for getting benefits under health insurance to eighty-five years of age.
Cover all pre-existing diseases.
Universally covers all elders, including the entire amount incurred in expenses under the PMJAY health scheme.
Separate Department for Senior Citizens:
At present, the unit of senior citizen empowerment is attached to the State Directorate for Women and Child Development, but considering the extent and requirements of senior citizens, this attachment seems illogical. Hence, it is requested to provide a separate directorate exclusively for senior citizens. There are few welfare schemes for the elderly in state policy, but many of them have not been implemented yet. Therefore, we would demand a separate ministry or department for senior citizens to strengthen the welfare schemes for the elderly.