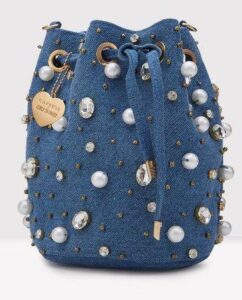 Caprese, the leading luxury bag brand in India, proudly unveils its latest handbag collection, Emily in Paris. Drawing inspiration from the captivating allure of the French capital, this collection pays homage to the fashion-forward spirit of Emily Cooper, the beloved character from the popular Netflix series. Representing Emily's vibrant personality, the collection reflects her social, warm, friendly, artsy, adventurous, and optimistic nature. The opulent collection, which is an ode to Emily Cooper, is sure to add style, sophistication, and pure elegance, promising to bring your Parisian fashion dreams into a stunning reality.
Caprese sets a groundbreaking precedent as the first bag brand to introduce a collection inspired by the iconic character, Emily Cooper. This meticulously curated collection showcases a fusion of the Emily in Paris series' essence and Caprese's exquisite craftsmanship, tailored exclusively for the show's ardent fans. The remarkable collection boasts distinctive EIP touches, including the signature heart-shaped Emily in Paris logo, allowing enthusiasts to express their adoration for their favorite show in stylish Caprese bags.
Caprese's Emily in Paris collection offers a diverse range of versatile bags across various categories, including slings, totes, crossbody bags, satchels, and more. Each category is designed with finesse for impeccable interiors, featuring organized compartments with internal slip and zip pockets, ensuring that your belongings stay effortlessly organized and safe. The adjustable and detachable sling handles provide convenience and comfort, while the secure top zip closures offer a hassle-free experience for daily adventures and expeditions. Adorned with the signature Caprese branded lining, these bags not only exude style but also exemplify the brand's commitment to quality and attention to detail. Each bag is meticulously crafted to capture the essence of Parisian chic, creating a unique style statement. Whether it's a casual outing or a glamorous evening affair, these bags are crafted to be perfect companions, seamlessly blending fashion and functionality.
Pushpita Gaur, Business Head at Caprese, said,"On behalf of Caprese, we firmly believe that fashion transcends trends and aims to make a lasting impact through every accessory. The Emily in Paris collection exemplifies our dedication to innovative designs, stunning silhouettes, and unrivaled functionality, all synonymous with Caprese's distinct fashion perspective. Our goal is to provide a diverse range of bags that cater to the unique styles and preferences of every fashion enthusiast, elevating their

confidence, and sophistication, and capturing their imagination. Caprese invites you to indulge in a realm of unparalleled charm where every accessory emanates timeless beauty, perfectly harmonizing with the captivating essence of the Emily in Paris show."
This extraordinary collection has been launched in collaboration with Viacom18, bringing together the allure of Caprese and the creative vision of Viacom18. With this collaboration, the Emily in Paris collection has gained widespread availability and can be found on most leading e-commerce platforms. Now, fashion enthusiasts can effortlessly explore and purchase their favorite pieces from the collection, ensuring easy access to Parisian trends and styles