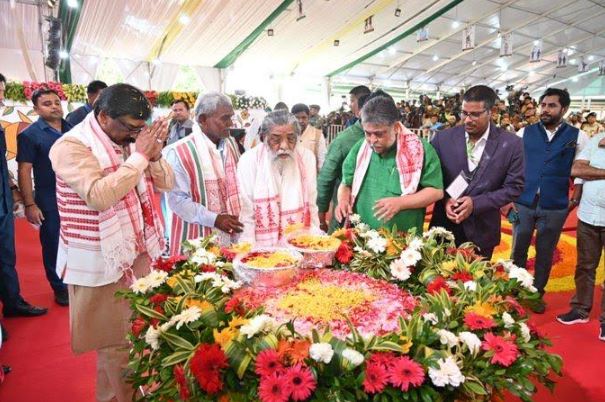 Ranchi / National Bureau, August 2023:
On the occasion of World Tribal Day, Jharkhand Adivasi Mahotsav 2023 ( Jharkhand Tribal Festival-2023) is being organized at Birsa Munda Smriti Udyan, Ranchi on the 9th and 10th of August. The two-day festival began on a grand note with the Riz Rang Rasika Rally.
Jharkhand Adivasi Mahotsav 2023 was inaugurated by Chief Guest Rajya Sabha MP Shibu Soren, Chief Minister Hemant Soren, and others. Postal Stamp on Jharkhand Adivasi Mahotsav and 35 books were also released on this occasion. This book is from all the research work done on tribal life.
On this occasion, Chief Guest Shibu Soren said that all tribal communities have almost the same culture, I urge you to educate your child. He said that this festival shows the unity and mutual brotherhood of the tribal community. There is a need to keep our generation connected with our culture and civilization.
In this program, Chief Minister Hemant Soren while addressing the tribal society asked them to live together for self-respect. He said that tribal festival is being celebrated in Jharkhand, this program is historic and very big in itself, the tribal festivals are celebrated everywhere, but Manipur's pain is also visible in this happiness.
Describing the festival, he said that the tribal festival is being celebrated with enthusiasm and pomp. This time the festival is being celebrated better than last time. At this festival, wonderful glimpses of tribal Sanskrit civilization, heritage art, film, etc. will be seen. Tribals from many states have come for this event.
The first day of the Jharkhand Tribal Festival ended with a spectacular laser show.
chief guest was Chairman of the State Coordination Committee and Rajya Sabha MP Shibu Soren, Chief Minister Hemant Soren, Minister of Scheduled Tribes, Scheduled Castes and Backward Classes Welfare Department Champai Soren, MLA Vinod Singh, MLA Jai Mangal Singh, MLA Rajesh Kachhap, Chief Many dignitaries including Secretary Sukhdev Singh, Director General of Police Ajay Kumar Singh, Principal Secretary Rajeev Arun Ekka, Principal Secretary to Chief Minister Vandana Dadel and Secretary to Chief Minister Vinay Kumar Choubey were present on this occasion.
A tribal Literature Seminar was also organised on the first day of the event, in the Tribal Literature Seminar, on the first day of the seminar, the current scenario of narrative and non-fiction genres in tribal literature was discussed. Senior litterateur and member of Sahitya Akademi, Jharkhand Shri Mahadev Toppo gave detailed information about literature and folk tales as keynote speaker. He said that today's tribal youth generation should read literature and tales related to tribals so that they can take direction Don't be inferior He said that the youth are becoming directionless by being cut off from their old tribal tradition. They need to connect with their old traditions. For this, there is a need to read the literature written by the ancestors. He threw light on the literature and stories written by the ancestors.
Professor Mr. Janardan Gond, who came from Prayagraj, explained in detail the philosophy of the life of tribals. Discussed the knowledge of tribals. Told about the awareness of nature in them as well as highlighted their harmony with nature. On the other hand, Professor E Vijayalakshmi from Manipur University gave information about her knowledge of tribal philosophy. He threw light in detail about the biography of tribals through stories and novels. And Professor Milan Rani Chamatia, who came from Tripura, also discussed tribal language and philosophy of life. He also gave information about his life struggle and education through stories and novels. He discussed in detail about the life struggle, life philosophy, history and culture of the tribals of Tripura. Through the novel Kabrak, he talked about various regions of the country including Tripura.