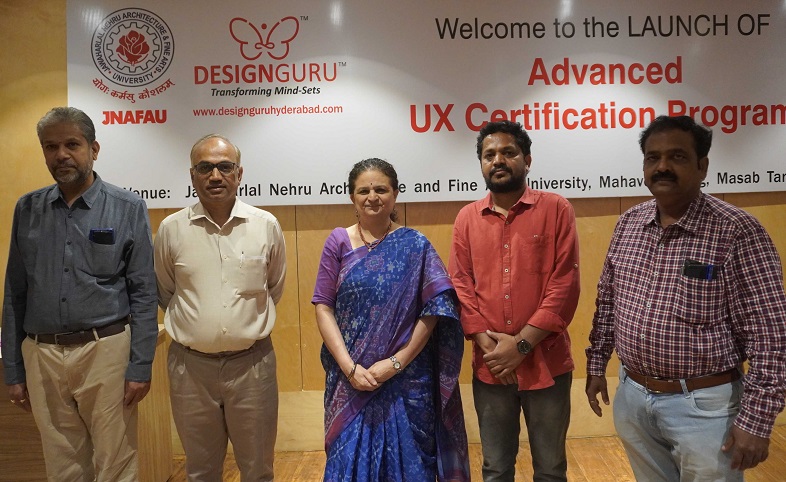 Hyderabad, July 4, 2023…….Jawaharlal Nehru Architecture and Fine Arts University(JNAFAU) and Design Guru, a start-up founded by its alumni Praveen Indoori signed an MoU to offer Three Month Advanced UX(User Experience) Certificate Program.
Disclosing this in a program organized for the purpose at the JNAFAU campus in Masab Tank on Tuesday, Praveen said this is a three-month weekend program and it will be a hybrid program.
The classes will be held on Saturday(online) and Sunday offline. It is open for JNAFAU Students, Professionals, and Design Enthusiasts from any walk of life from outside the University. It is open to students from any college.
The wheel was invented 10,000 years ago. A travel bag was invented in the 14th century BC. Though the wheel was already existing, people used to carry heavy bags on their shoulders or on their heads. But only in the recent past, i.e., in the year 1970, a traditional suitcase on wheels attached to a long strap was innovated. It was patented in 1972. This saves a lot of effort for the travelers. It took so many years for the design transformation. Are we really thinking about users' problems? Praveen asked. Designers have a bigger role to play, i.e. to think of solving users' problems.
Big-button mobile phones are a popular choice for older people who are looking for a simple phone that's easy to use. But it took so many years to understand and innovate. This is what designers can do.
They identify user needs, analyze problems, and come up with innovative solutions. UX designers help make efficient, accessible, and pleasant experiences for users.
There is a transformation everywhere–Manual to Multimedia; Sign Board to Flxis; Advertising to Digital Marketing. This course will transform Designers into Experience Designers who will dramatically change the User Experience. User experience is important because it tries to fulfill the user's needs. It aims to provide positive experiences that keep a user loyal to the product or brand. UX design is a process of creating thoughtful products through solutions driven by the human-centered design process and an abundance of creativity, said Prof. Dr. N. Kavita Daryani Rao, Vice Chancellor of JNAFAU speaking on the occasion.
I am an alumnus of this college and I have 20 years of industry experience. I have traveled a long way from Graphic Designer to Web Designer to UI Designer to Interaction Designer to UX Designer to UX Architect to Sr. Consultant to UX Manager. I always had the urge to give back to the Design Community. He said I want to contribute to this community in my own small way. Now with this program, we would like to produce future-ready designers, Praveen added. And I also want to make UX Training Affordable. So, this course fee for JNAFAU students is Rs 15,000/- as against Rs 70,000/- to 1.9 lacks charged elsewhere. The fee for the students of other colleges is Rs 29000/- plus GST as applicable.
The Course has already evoked a lot of responses. 45 out of 50 required already registered of which 30 paid fees. Only a few seats left. Interested people may contact us immediately on phone at 9908420890 or log in to www.janfau.ac.in or www.designguruhyderabad.com. The classes will commence next week.