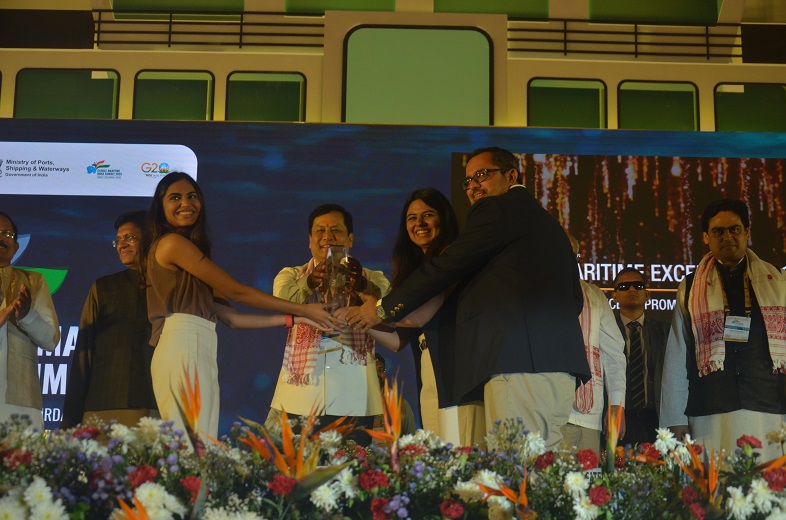 Mumbai, October 20th, 2023: The launch of Mumbai's first passenger Ro-pax service, a joint initiative by the Maharashtra Maritime Board and Mumbai Port Trust Authority, stands as a momentous achievement. Prime Minister Narendra Modi unveiled the Maritime Amrit Kaal Vision 2047 at the Global Maritime India Summit in Mumbai, signaling a concerted effort to elevate India's maritime industry through port modernization and emission reduction. M2M Ferries, a trailblazer in Ro-pax operations, proudly accepts the Maritime Excellence Achievers Award at the Global Maritime Summit.
Over the last three years, M2M Ferries has maintained a remarkable 99% punctuality record. The ferry service has transported over 1.5 million passengers, more than 250,000 vehicles, including 75,000 two-wheelers. Beyond delivering exceptional service, M2M Ferries is dedicated to promoting gender equality and women's empowerment. Notably, the company boasts a female presence in every department, including engineering, and is led by CEO Devika Saigal, one of the few women CEOs in the maritime sector. M2M Ferries is also one of the few ferries in India equipped to accommodate differently-abled passengers.
Upon receiving this esteemed award, Devika Saigal, CEO of M2M Ferries, expressed her gratitude, saying, "We extend our heartfelt thanks to the Maharashtra Maritime Board and Mumbai Port Trust for their unwavering support of M2M Ferries. We salute the Sagarmala initiative and the Ministry of Shipping and Ports for their visionary approach to waterway development. When we embarked on this journey in 2019, our aim was to provide Maharashtra and India with a world-class service. We are absolutely thrilled that our operations have garnered recognition at the Global Maritime Summit. M2M Ferries, the largest Ro-pax ferry service operating between Mumbai and Mandwa, is committed to delivering an international standard passenger and vehicle transport experience. We owe our success to the outstanding team at M2M Ferries, whose dedication and enthusiasm make every journey a triumph."
In addition to exceptional ferry service, M2M Ferries has worked diligently to create a terminal that passengers eagerly anticipate. Recently, the terminal welcomed an internationally renowned coffee brand, Starbucks. By attracting such brands to their terminal, M2M Ferries is ensuring that local villagers have access to new job opportunities and skills development. Beyond transforming waterfront infrastructure, M2M Ferries is transforming lives by generating employment and fostering economic opportunities for local communities.
Aashim Mongia, Director of M2M Ferries, stated, "Aashim Mongia, Director of M2M Ferries, stated, "At M2M Ferries, our commitment goes beyond ferrying passengers; we are dedicated to fostering positive change in the maritime industry and the communities we serve. This award is a testament to our team's unwavering efforts, and we are excited to continue our journey of transformation, connecting people and creating opportunities on the high seas and at our terminals."
As we move forward into the future of maritime transportation, M2M Ferries stands as a shining example of innovation, inclusivity, and dedication. With a world-class team at the helm, M2M Ferries continues to redefine passenger and vehicle transport, creating opportunities, and transforming lives. The partnership between the Maharashtra Maritime Board and Mumbai Port Trust Authority, along with visionary leadership from Prime Minister Narendra Modi, exemplifies a shared vision for a brighter, more sustainable maritime future. The journey has only just begun, and M2M Ferries remains steadfast in its commitment to excellence, ensuring passengers can look forward to a future of world-class service, inclusivity, and economic growth.