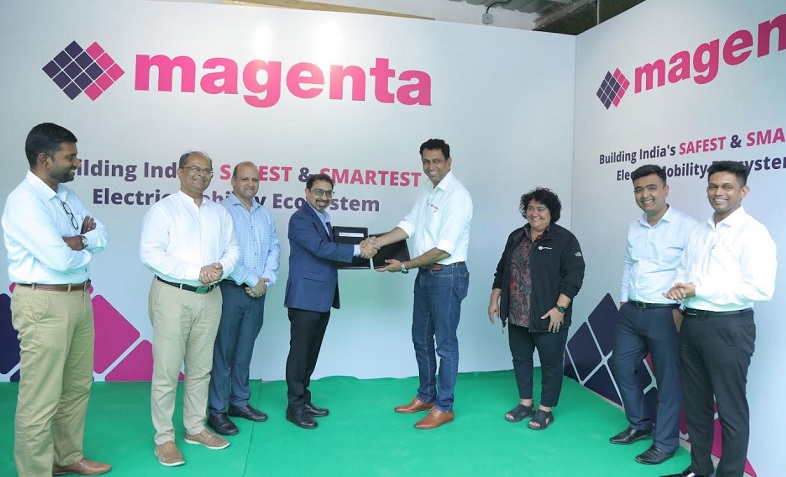 Mumbai: Magenta Mobility, India's leading full-stack electric fleet operator, forays into the electric four-wheel commercial vehicle segment through a strategic partnership with Tata Motors, India's largest commercial vehicle manufacturer. The company signed a MoU with Tata Motors to deploy 500 units of the revolutionary Tata Ace EV, offering a green and smart transport solution tailored for a wide variety of intra-city applications. This partnership with Tata Motors aligns with Magenta's commitment to "Decarbonizing Logistics" by providing clean and sustainable mobility solutions, contributing to a greener and more eco-friendly transportation ecosystem.
The launch of Magenta's electric four-wheel commercial vehicle fleet with Tata Motors was celebrated with a flag-off by Mr. Maxson Lewis, Managing Director, Magenta Mobility, and Mr. Ashish Tandon, Senior General Manager, Product Line – SCV&PU, Tata Motors. The event was also graced by notable guests including Shyam Sundar (India Head of Morgan Stanley), Sophia Nadur (Managing Director, BP Ventures), and Darryl Dias (Director – Magenta Mobility).
Mr. Maxson Lewis, Founder and Managing Director, of Magenta Mobility said, "Our partnership with Tata Motors marks our entry into electric four-wheel cargo fleet across India. With this partnership, we will work closely with Tata Motors to open up new avenues for electrification, accelerating the EV adoption in urban deliveries. Together with Tata Motors, we aim to drive sustainability in intra-city logistics in India by reducing the carbon footprint in the last-mile and mid-mile freight segment."
Mr. Vinay Pathak, Business Head – SCV&PU, Tata Motors added, "We are delighted to partner with Magenta Mobility for inducting Tata Ace EVs to their fleet. The Ace EV is an advanced, holistic solution that is co-created with our partners to cater to multiple intra-city distribution needs and provides a high-value proposition and the highest uptime. This partnership reaffirms our commitment to democratise zero-emission e-cargo mobility solutions across the country, thereby contributing to a cleaner and greener future for India."
Magenta Mobility, a leading provider of electric mobility and EV charging solutions has set ambitious targets, aiming to transition from "1k to 10k" electric vehicles on the road by 2024. Currently, the company operates successfully in cities such as Bengaluru, Mysuru, Hyderabad, Mumbai, Pune, Delhi, Noida, Gurugram, and Surat managing a fleet of over 1,200 electric vehicles serving clients across various sectors, including e-commerce, grocery delivery, FMCG, food and pharmaceuticals for their last-mile deliveries.
With the introduction of Ace EV in its fleet, Magenta Mobility plans to unlock the electrification of previously untapped segments within the last-mile and mid-mile delivery ecosystem.