In recent times, the stock market has witnessed remarkable activity, with both institutional and retail investors interpreting the surge as a bullish trend. Zee Business' extensive investigation on 'Operation Farzi Bull Run' has proved to be an eye-opener to investors on market manipulation and the general public about the perplexing/ complex surges in a few loss-making & weak fundamental PSU (Public Sector Undertaking) stocks that gripped the Indian stock market.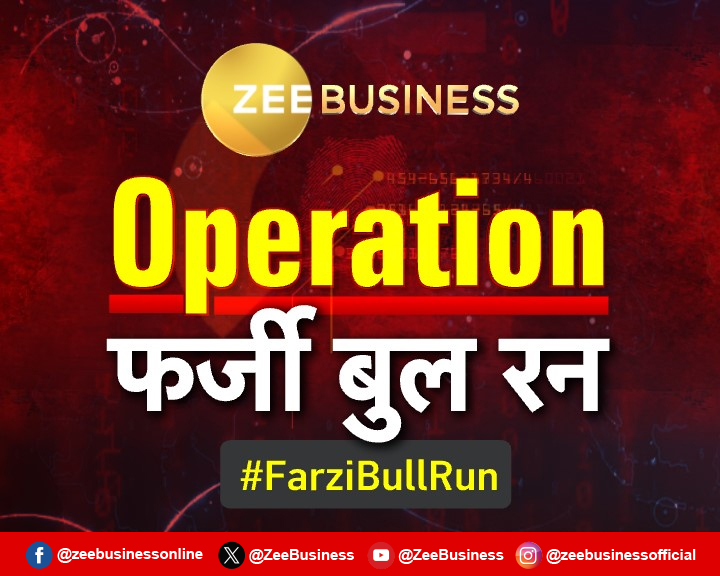 Anil Singhvi, Managing Editor of Zee Business, through his extensive analysis, scrutinized the extraordinary activity in a few small PSU shares. This has culminated in several stocks with suspect bull runs, now being subjected to lower circuit restrictions. In fact, the mid-cap and small-cap sectors, in particular, have experienced significant growth over the last six months.
Most notably, selected PSU stocks have displayed an extraordinary upswing, with gains ranging from 100% to a staggering 300% in just three months. However, while these stocks have exhibited substantial price movements, their underlying fundamentals often remain questionable.
Some of the key highlights of 'Operation Farzi Bull Run' are as follows:
 Dubious Price Surges: 'Operation Farzi Bull Run' uncovered a systematic modus operandi, which emphasized how select groups of investors have been manipulating the prices of government-owned shares that are already underperforming. These manipulations have led to unprecedented price hikes, leaving small, unsuspecting investors at risk.
Low Public Shareholding and Market Manipulation: Anil Singhvi also highlighted that the government owns 90% of shares in state-owned companies where these manipulative activities are prevalent. The remaining 1% to 10% of shares are actively traded on the stock market. Owing to the low price of these shares, influential market participants and investors can easily amass substantial quantities, thereby gaining the power to dictate prices. This power is often used to lure smaller investors with the promise of lucrative returns, trapping them in a dubious cycle.
 Uncovering the Deception: The 'Operation Farzi Bull Run' special report also highlighted Market Manipulation and the tricky trap into which regular investors fall. It exposed the fraudulent tactics of the prominent investors behind this deception.
Upon investigation, there was a sharp correction of up to 10 percent seen in these counters, which, until 10:30 a.m. on Wednesday (October 18), were trading with gains of up to nine percent. It further led to the lower circuit in most of the stocks – i.e. a sharp decline was observed in Scooters India, MMTC, STC, Andrew Yule, KIOCL, FACT, and HMT stocks.
Emphasizing the far-fetched impact of 'Operation Farzi Bull Run', Anil Singhvi, Managing Editor, Zee Business said, "At Zee Business, we're committed to ensuring financial markets are transparent and honest. We initiated 'Operation Farzi Bull Run' with the sole purpose of protecting investors. The stock market's current dynamics are captivating, but appearances can be deceiving. It's imperative for investors to exercise prudence and conduct thorough research."

Madhu Soman, CBO of Zee Business and WION, further added, "At Zee Business, our investigative programming is a reflection of our pledge to inform, protect, and empower investors. 'Operation Farzi Bull Run' serves as a prime example of the tangible, real-world impact we aim to achieve. In fostering transparency and trust, our work not only benefits our viewers but also strengthens the integrity of the financial landscape."
'Operation Farzi Bull Run' is not just an investigation but has been able to raise an alarm for investors, regulators, and market participants to take action over market manipulation. It, in fact, underscores the significance of sound judgment and vigilance in a dynamic financial landscape.
Zee Media Corporation Ltd, one of India's leading media companies, has a strong presence in the news and regional genres, with 16 news channels in seven different languages, reaching more than 528+ million viewers through its linear and digital properties.