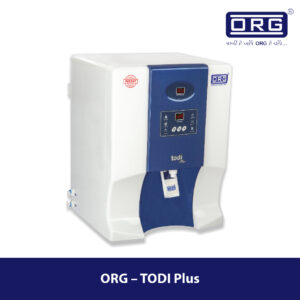 14 June 2023: ORG Engitech Limited, a renowned leader in designing and manufacturing innovative water purification solutions, proudly unveils its latest groundbreaking product, the ORG TODI Water Purifier.
The ORG TODI Water Purifier represents a remarkable advancement in addressing the critical need for pure and HEALTHY water. Often when using ROs, the water purified water gets striped off the essential minerals.
Understanding the significance of maintaining the right balance of Total Dissolved Solids (TDS) in water, ORG has developed the revolutionary TODI technology, which, while incorporating cutting-edge technology to eliminate physical, chemical, and biological impurities, retains the essential minerals for optimal health; what's more, it gives the control in the hands of the customer.
Mr. Anil Gajera, Founder of ORG Engitech Limited, expressed his delight, stating, "We are thrilled to introduce the ORG TODI Water Purifier, the first product in its category that allows customers to decide the desired TDS level in their purified water. This innovative move will undoubtedly enhance the health and well-being of our customers."
 The ORG TODI Water Purifier features a user-friendly display panel that displays.
 the actual TDS of the purified water
 the Purification process in operation UF/UV or RO
 low-pressure indication in case the inflow pressure of water is low.
 storage tank full indication
 Running Service Hours display, telling customers when the next service is due
TODI storage tanks are made of food-grade material. Further, to prevent bacterial contamination due to water storage for an extended duration in the storage tank. ORG TODI Water Purifier incorporates an innovative Ultra Violet system that circulates the stored water every 4 hours, effectively preventing recontamination and maintaining the water's purity at all times.
Designed as a universal water purifier, the ORG TODI caters to varying water sources such as borewells, municipal, or tanker water. It automatically selects the required technology, UF/UV or RO, based on the customer-set minimum and maximum TDS settings.
Mr. Gajera further emphasized the significance of post-maintenance service, stating, "Regular maintenance is crucial for ensuring ideal water quality every day. With the ORG TODI Water Purifier, customers can enjoy peace of mind, knowing that reliable and comprehensive maintenance services back our product."
The ORG TODI Water Purifier is now available through the ORG website and authorized dealers nationwide.