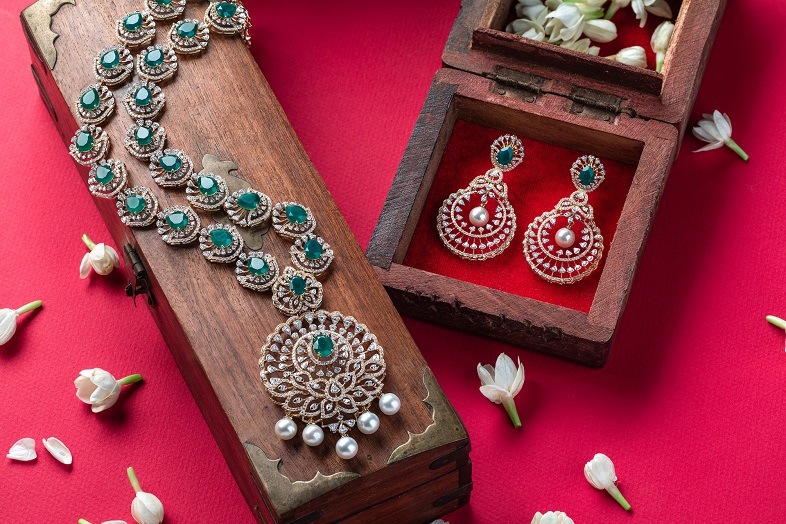 Bengaluru October 30, 2023 — In the spirit of celebration and cultural richness, as we prepare to move and groove to the enchanting rhythms of Garba and Dandiya, India is abuzz with festivities. Usher in the much-awaited festive season with celebrations like Navratri, Dussehra, Karva Chauth, Dhanteras and Diwali uniting people from every corner of the country in a spirit of joy, devotion, and togetherness. Adding to the festive fervor, ORRA Fine Jewellery, known for its exquisite diamond craftsmanship, is thrilled to unveil a spectacular festive collection.
The new collections are inspired by the beauty and symbolism of these festivals, and bring a touch of brilliance to your celebration looks. ORRA's new collection beautifully captures the essence of India's diverse cultural tapestry, fusing traditional and contemporary designs, boasting an array of stunning pieces, including necklaces, bangles, earrings, and more.
ORRA's regional collections are tailored to enhance cultural nuances across India. In the South, the collection exudes opulence with chic and handmade pendant sets, chokers, and harams, perfect for elevating your festive style. Up North, the pendant sets blend versatility and elegance, inspired by mandalas and coral reefs, adorned with colored diamonds, making it ideal for Karva Chauth, Dhanteras, Lakshmi Pooja, and Diwali celebrations. In the West, a contemporary twist on traditional Mangal sutras, featuring broad pendants and black bead belts adorned with diamonds, add a unique touch to your jewellery collection.
ORRA presents an enchanting pair of earrings to elevate your style this Dussehra which will be available at a limited-edition price of Rs. 49,999. But the magic doesn't end there! ORRA has gone the extra mile to celebrate the deep bond between couples during the occasion of Karva Chauth, with two unique box sets at a special price to make your shopping experience even more delightful.
"We are thrilled to introduce our exquisite regional-specific diamond jewellery collection, just in time for the festive season," said Mr. Dipu Mehta, the Managing Director of ORRA Fine Jewellery. "At ORRA, we firmly believe that every piece of jewellery narrates a unique story and evolves into a cherished heirloom. Our latest additions beautifully blend traditional craftsmanship with contemporary design, allowing our customers to express their unique style and individuality, while embracing the spirit of celebration and joy that defines this festive season."
ORRA's regional collections allow you to embrace India's rich cultural diversity and incorporate the beauty and symbolism of festivals like Navratri, Dussehra, Dhanteras, Diwali into your celebrations, available at our showrooms in across the country. As a part of the festivities, ORRA is delighted to extend exclusive discounts and special offers to customers visiting during this joyous season.
 Up to 25% off on diamond and 22KT gold jewelry (for a limited period) *
 0% downpayment & 0% interest on EMI facilities*
 100% exchange value on gold jewellery*