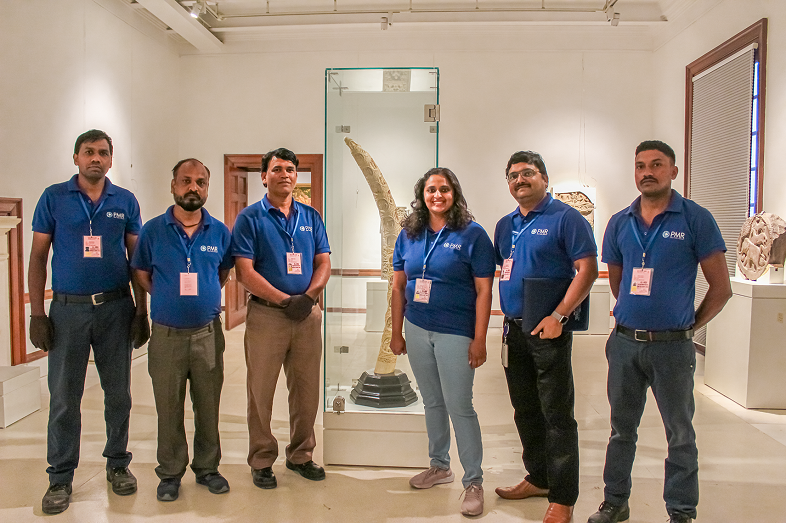 New Delhi, September 2023: ARTISTIC, a fine art logistics brand under the global relocation firm P.M. Relocations (PMR), played a pivotal role in carefully packing and transporting priceless artworks and artifacts from various parts of India and the world for the recent G20 Summit held in the capital city. PMR's longstanding partnership with the National Gallery of Modern Art (NGMA) led to their recommendation for PMR's services, and subsequently, the National Museum, New Delhi, entrusted PMR with the vital task of handling these precious artworks. These masterpieces were proudly exhibited at the NGMA and the Bharat Mandapam in Pragati Maidan, offering foreign delegates a glimpse into India's rich cultural heritage.
Speaking on the association, Ms. Aakansha Bhargava, CEO of PMR said, "We are extremely grateful to the National Gallery of Modern Art (NGMA) and the National Museum, New Delhi, for giving us such a prestigious opportunity. G20 Summit presented a great platform to provide a cultural experience and witness global interconnectedness through the ages. We are happy to be able to support and contribute to the NGMA's vision for the summit. PMR is committed to quality service and a customer-centric approach."
The exhibited artifacts were sourced from the National Gallery of Modern Art in Mumbai and Kolkata, State Museums of Chandigarh, Mathura, and Chennai, National Library and Asiatic Society, Kolkata, the site museums at Sarnath, Nalanda, Nagarjunakonda, and Sanchi, and the Embassies of Brazil, France, South Africa, Spain, Canada, and Fundacio Del Disseny De La Comunitat Valenciana, Valencia, Spain.
PMR has been relocating art for nearly two decades now and has worked with 7 galleries across the globe. The Director of the National Gallery of Modern Art (NGMA) expressed his happiness with the methodical packing and moving of the works of art. The management team at the National Museum of New Delhi said, "We are grateful to PMR for giving us great logistical support. The team seamlessly and meretriciously managed the movement of sculptures, manuscripts, and artwork of India and of participating nations from across the country."
A report anticipates that by 2028, the market for fine art handling and logistics will reach USD 3978.44 million, growing at a CAGR of 5.31%. This includes handling, packaging, moving, and installing artwork, including sculptures, paintings, and antiquities. The Indian art market has grown in size and value over the past 20 years, along with a proliferation of private museums, galleries, auction houses, and other art institutions in the nation and frequent exhibitions of artworks around the globe.