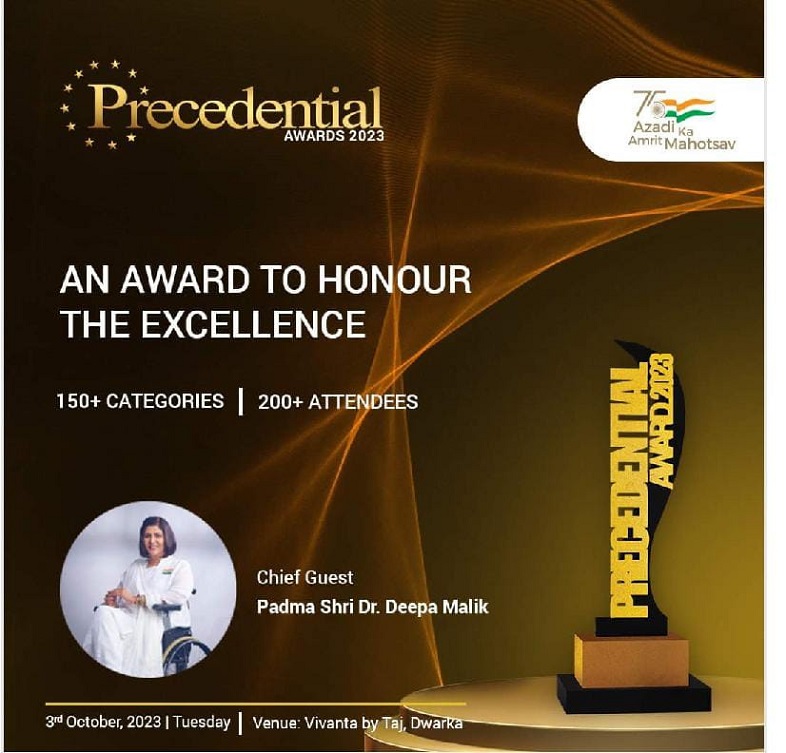 New Delhi: Precedential Awards 2023 is all set to take place on October 3rd, 2023 at the splendid Vivanta in Dwarka, Delhi. Precedential Awards is a celebration of the Power of Dreams of individuals and organizations who have dared to believe in their vision. This Award is a joint initiative of the Banyan Tribe Business Community, Blanky Creative Agency, and Straight Angle Media who have come together with a mission of sharing the untold stories of people from all walks of life who are contributing to the making of New Bharat. Precedential Awards is dedicated to celebrating the indomitable spirit of India's thriving MSMEs, athletes, armed forces, public services, philanthropists, and all individual achievers.
The event's Chief Guest is Padma Shri Dr. Deepa Malik, a legend in the world of parasports who exemplifies the term "everything is possible". Joining her as Guests of Honor are Maj Gen Rajpal Punia, social activist Chandni Khan, the world's fastest pianist Dr. Aman Bathla, Guinness World Record Holder 95-year-old Bhagwani Devi Dagar, renowned Rally Driver Gaurav Gill, and the illustrious DANICS Ranjit Singh. The jury panel comprises esteemed experts, leaders, and influencers coming together to recognize and honor outstanding accomplishments.
Precedential Awards 2023 boasts of having over 150 award categories, honoring entrepreneurs, trailblazers, and visionaries who have left an indelible mark on our nation's landscape. Among the diverse categories are Business of the Year, Innovation and Technology, F&B, Customer Experience, Environmental and Social Responsibility, Apparel & Fashion, Entrepreneurship, Finance, Healthcare, Wellness, and many more. This event stands as a testament to the exceptional talent and contribution that continue to drive our nation's progress.