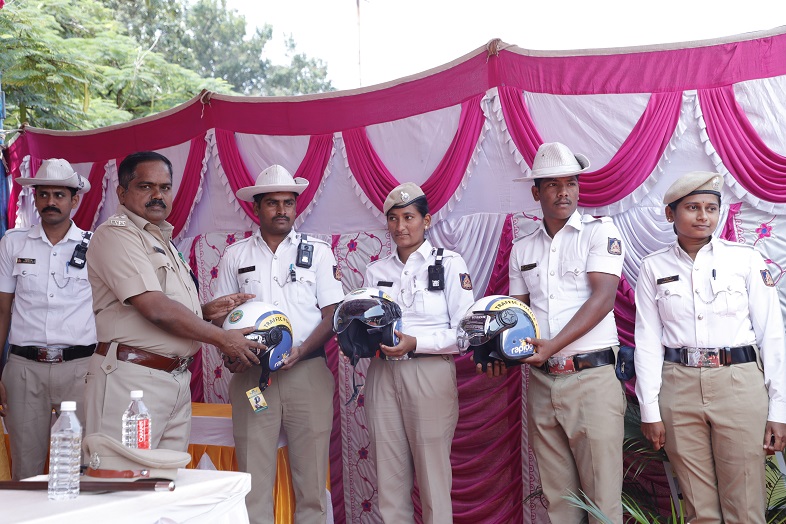 Bengaluru, October 20, 2023: Rapido, India's leading bike taxi platform, collaborated with Bengaluru Traffic Police to organize an awareness drive by distributing helmets and raincoats to 200 traffic policemen at Shalini Ground, Jayanagara on 19th October 2023. The occasion was graced by Shiva Prakash Devaraju IPS, DCP, Traffic, South Division, Bengaluru, Government of Karnataka, and T. Mahadeva, ACP, Jayanagar Police Station.
In a meaningful gesture, Shiva Prakash Devaraju and T. Mahadeva personally distributed 100 helmets to Rapido bike taxi captains and took the opportunity to speak about the importance of road safety. The company believes that safeguarding riders and law enforcement officers is a shared responsibility, and this endeavor underlines that commitment.
Furthermore, Rapido is also actively investing in enhancing the infrastructure available to traffic police officers. By installing modern traffic police booths at 15 strategic locations throughout the city, including prominent areas like Shalini Ground in Jayanagar 5th Block, Jayanagar Metro Station Signal, Chunchaghatta Signal, 100 Feet Road Sarakki, Delmia Signal, and Forum Mall Signal.
Pavan Guntupalli, Co-founder of Rapido, stressed the significance of road safety and the partnership with Bengaluru Traffic Police, stating, "At Rapido, we have always placed safety as our top priority. We are excited to team up with the dedicated officers of Bengaluru Traffic Police to further our mission of enhancing road safety in the city. This collaboration highlights our commitment to ensuring safer streets in Bengaluru. Together with our esteemed partners, we aim to make a positive impact on road safety for all residents and commuters in the city."

During the event, Shiva Prakash Devaraju IPS, DCP, Traffic, South Division, Bengaluru said "I extend my first and foremost thanks to Rapido for their remarkable initiatives. It's noteworthy that Bengaluru currently holds the second position nationwide, just behind Delhi, in terms of the number of two-wheelers on its roads. Based on the current registration trends, it's foreseeable that in the next 2 to 3 years, Bengaluru will become the city with the most two-wheelers in the country. On this trajectory, Rapido will surpass 20,000 bikes. There are two crucial facets to consider: from the perspective of bike taxi captains, ensuring timely and efficient pick-up and drop-off services for customers is paramount; from the viewpoint of traffic police, irrespective of the mode of transport, our shared objectives remain consistent – promoting safe transportation and mitigating traffic congestion. It is imperative that bike taxi captains establish and maintain regular communication with traffic police officials. Furthermore, I emphasize that prioritizing the use of helmets should be your foremost concern, promoting the safety and well-being of both riders and passengers alike."

T. Mahadeva, ACP, Jayanagar Police Station, Bengaluru said "Every day, we encounter a multitude of challenges in our daily work routine. The rise in individuals disregarding traffic regulations and the increasing frequency of signal violations are becoming pressing concerns. Nonetheless, we have surveillance cameras strategically positioned at various traffic signals, which continuously monitor and record infractions. Our Traffic Management Center (TMC) diligently processes and registers between 40,000 to 50,000 cases online each day. This robust system underscores the need for Rapido drivers to exhibit responsible behavior by strictly adhering to traffic regulations and working in tandem with our dedicated traffic police officers. By doing so, we play a crucial role in fostering the transformation of Bangalore into a city known for its international standard of safety and responsible driving."
In addition to providing safety gear, Rapido is actively engaged in promoting safety awareness among its bike taxi captains and the larger two-wheeler rider community. The company educates riders on the importance of adhering to traffic rules, wearing protective gear, and practicing responsible riding behavior. Rapido has distributed 100 helmets throughout India to promote road safety and has previously collaborated with the Noida Traffic Police to enhance road safety.