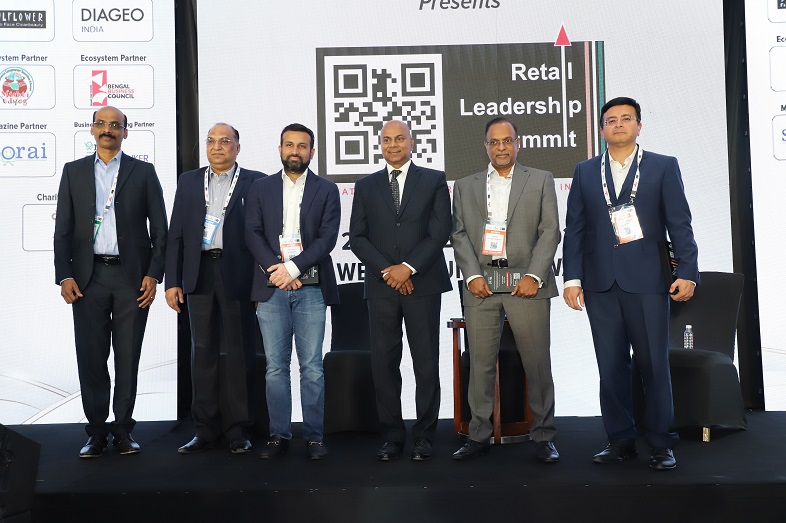 February 2023, Mumbai: The retail industry came together at the Retailers Association of India's (RAI) Retail Leadership Summit (RLS) 2023, on February 22 & 23 in Mumbai, for a deep dive into building sustainable omnichannel retail businesses.
The 2023 edition of the summit was presented by Reliance Retail.
Speaking about the RLS 2023, Kumar Rajagopalan, Chief Executive Officer, Retailers Association of India (RAI), said, "Retail in India is showing signs of good growth. However, global issues around inflation as well as the Russia-Ukraine war have created a source of constant worry. Technological adoption, coupled with infrastructural progress helps Indian retail keep a sense of positivity. RLS is a good platform for retailers and retail service providers to come together, converse, and connect to create better standards of retail."
The tone of the summit was set by Bijou Kurien, Chairman, Retailers Association of India (RAI). Speaking about the opportunity for small retailers, he said, "There is a great opportunity for small retailers to digitally transform their businesses. Technology can be adopted in batches, on a revenue model; rather than as a large capital investment. UPI has revolutionized payments and ONDC can do the same for commerce. Small retailers can attain the capability of large retailers, and achieve a sustainable advantage."
The highlights were the keynote address delivered by Ashwin Khasgiwala, Chief Operations Controller, Reliance Retail Ltd. & Director, Reliance Brands Ltd. (day 1- Feb 23) and the in-depth one-on-one discussion of Peyush Bansal, Co-Founder, Chief Executive & People Officer, India, SE Asia, Middle East with Bijou Kurien.
Speaking about Retail as a profession, Bansal, said, "I think we need have pride in the fact that retail is a profession. Today, most B-school graduates want to pursue careers either in consulting companies or in the FMCG space. I feel that a chunk of them need to start joining the retail industry, which will make retail as a profession shine, and to make this change of mindset to happen will take a lot of work. And this is the area where I want to impact the most."
Special addresses were delivered by B S Nagesh, Chairman, Shoppers Stop and Founder – TRRAIN, on; and Sagar Daryani, Co-Founder & CEO, Wow! Momo Foods.
Other highlights included Knowledge Reports by RAI with BCG titled "₹400 Bn EBITDA Opportunity with Advanced Analytics and AI in Retail," which offers a comprehensive look at the potential opportunity in the Indian context was unveiled and presented by Abheek Singhi, Managing Director and Senior Partner at BCG; and with ANAROCK titled 'India Retail Real Estate: REvived, REshaped, & REinforced: providing an outlook of the retail real estate sector', was also unveiled and presented at the RAI Retail Leadership Summit 2023 by Anuj Kejriwal, CEO & Managing Director – ANAROCK Retail.
The Summit saw the participation from several retail leaders, as well as top names in the retail service provider space.
Speaking about the outlook of the garment industry in India, Kulin Lalbhai, ED, Arvind Ltd., commented, "One of the negatives of this online hypergrowth is that it has been stimulated by using discounts as a crutch. Hopefully, over time as the market matures this excessive reliance on discounts to grow the business should subside. Secondly, brands should work to have a unique personality and value proposition, which will be good for the market."

Speaking about the retail landscape of India, Venu Nair, MD & CEO, Shoppers Stop Limited, said, "The shift in shopping behaviour during the pandemic has made omnichannel a key way of shopping, where retailers and brands have now brought in the convenience of phygital shopping, and that in itself is leading to a significant amount of both change and increased consumption."

Speaking about the potential of the footwear segment, Gunjan Shah, MD & CEO, Bata India Ltd, said, "We should see a lot more production happening in India from pack-end sourcing and a supply chain perspective. I think for brands this will also give great opportunities in terms of bringing technologies into products as well as big export opportunities."

Speaking about the evolution of the Indian retail industry, Abhishek Ganguly, MD, Puma India & South East Asia, said, "Brands and retailers that will evolve faster and understand the consumers' needs better and faster and solve for that will stand to gain."
The summit had a plethora of captivating panel discussions on topics such as:-
▪ Retail Strategy: Scenario Planning to Build a Sustainable Business
▪ Building Powerful Retail Brands: Implementing Your Unique Value Proposition
▪ Online + Offline = Unified: The India retail growth story
▪ Tech-enabled 360-degree collaboration: Success in an omnichannel world
▪ Collaborative efforts in promoting sustainability in retail: Lessons learned and best practices
▪ Reimagining digital Consumer Engagement – Going beyond just the Shopping Journey
▪ Recreating the Magic of Retail: Technology's role in enhancing Customer Experience
▪ Digital Transformation and its impact on Retail Growth and Customer Experience
▪ Retail Platforms and the Future of Consumer Shopping Behaviour
▪ Innovative Retail Marketing Strategies for Attracting and Retaining Customers
▪ Scaling a retail startup with shark investment: Strategies for leveraging investment to grow their businesses
▪ Win your Customer through Conversation: How CX impacts Business Growth
Roundtable discussions at RLS 2023 included topics such as:-
▪ Simplifying Retention for Retail & CPC Industry
▪ Retail Disruptors: Economy, Consumers, Data, Ecosystem & Innovation. What is Your Big Bet?
▪ Future of Retail: Navigating the Evolving Landscape and how to Drive Growth in 2023 and Beyond
▪ Understanding & Adopting Non-linear Customer Intelligence to accelerate Business growth
▪ Integrating Payment Technologies in Point of Sale: Strategies for CFOs to Drive Business Growth
▪ Future of Talent Acquisition in Sourcing Retail Growth
The first day of RLS 2023 came to a close with the grand felicitation of the crème de la crème of the retail industry with India's Retail Champions Award 2023 and the Retail Start-up Awards 2023—both evaluated by eminent personalities from the industry as the Jury.
Winners of India's Retail Champions Awards 2022 were:
| | | |
| --- | --- | --- |
| Categories | Name of the Brand | Name of the Company |
| Apparel & Lifestyle | Hidesign | Hidesign India Pvt. Ltd. |
| Apparel & Lifestyle | Lakshita | Lakshita Fashions Pvt. Ltd. |
| Apparel & Lifestyle | Killer Jeans | Kewal Kiran Clothing Company Ltd. |
| Apparel & Lifestyle | Manyavar | Vedant Fashions Ltd. |
| Beauty & Wellness | SUGAR Cosmetics | Vellvette Lifestyle Pvt. Ltd. |
| Beauty & Wellness | The Body Shop | Quest Retail Pvt. Ltd. |
| Consumer Durables & IT (CDIT) | HAPPI MOBILES | Hello Mobiles Pvt. Ltd. |
| Department store | Shoppers Stop | Shoppers Stop Ltd. |
| Emerging Retailer of the Year (Innovative, disruptive in the last 5 years) | Tasva | Indivinity Clothing Retail Pvt. Ltd. |
| Emerging Retailer of the Year (Innovative, disruptive in the last 5 years) | MR.DIY | Dua Lima Retail Pvt. Ltd. |
| Emerging Retailer of the Year (Innovative, disruptive in the last 5 years) | Nykaa | FSN Brands Pvt. Ltd. |
| Emerging Retailer of the Year (Innovative, disruptive in the last 5 years) | GARGI | PNGS Gargi Fashion Jewellery Ltd. |
| Emerging Retailer of the Year (Innovative, disruptive in the last 5 years) | Decathlon | Decathlon |
| Food & General Retail (Large format over 5,000 sq. ft) | Le Marche | Marche Retail Pvt. Ltd. |
| Food & General Retail (Small format below 5,000 sq. ft) | Nuts 'n' Spices | Nuts 'n' Spices |
| Food & General Retail (Small format below 5,000 sq. ft) | Arambagh's Foodmart | Arambagh Foodmart Pvt. Ltd. |
| Footwear | Sreeleathers | Sreeleathers |
| Footwear | Metro Brands Ltd | Metro Brands Ltd. |
| Home Decor / Home Improvement | India Circus by Krsnaa Mehta, a Godrej venture | Godrej & Boyce Mfg. Co. Ltd. |
| Home Decor / Home Improvement | Prestige Xclusive | TTK Prestige Ltd. |
| Jewellery | VAIBHAV JEWELLERS | Manoj Vaibhav Gems N Jewellers Ltd. |
| Jewellery | Swarovski | Swarovski India Pvt. Ltd. |
| Restaurant & QSR | GOPIZZA | Gopizza India Pvt. Ltd. |
| Restaurant & QSR | Haldirams | Haldiram's |
| Restaurant & QSR | Paradise Biryani | Paradise Food Court Pvt. Ltd. |
| Speciality Retail | Partshala | Beekay Parts Bazaar Pvt. Ltd. |
| Speciality Retail | Pressto & Cobbler by pressto | Press2 Dry Cleaning & Laundry Pvt. Ltd. |
| Speciality Retail | Great Eastern Trading Co. | Great Eastern Hire Purchase Pvt. Ltd. |