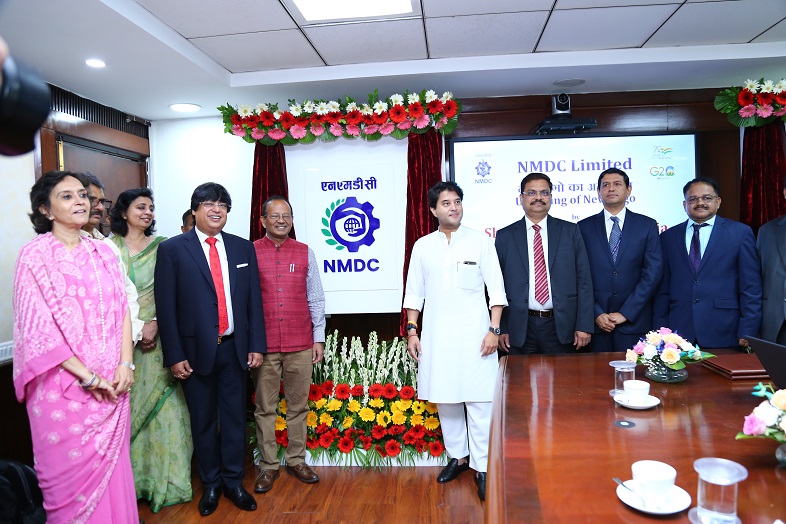 Mumbai/National, August 2023: NMDC, India's largest iron ore producer, unveiled its new logo today in New Delhi, showcasing the CPSE's dedication to responsible mining. Shri Jyotiraditya Scindia, Honourable Union Minister of Civil Aviation and Steel, Government of India, revealed the dynamic logo in the presence of Shri Nagendra Nath Sinha, Steel Secretary, and Shri Amitava Mukherjee, NMDC CMD (I/c).
The new logo signifies the company's future scale and strength after achieving record production of 40 million tonnes for two consecutive fiscals. With a robust digital roadmap for smart mining, NMDC is stepping into NMDC 2.0, reimagining its principal visual identity.
Speaking on the occasion, Shri Jyotiradiya M. Scindia said, "Today, as we witnessed the unveiling of NMDC's new logo, I'm reminded of the remarkable journey India has embarked upon- from striving for self-reliance post-independence to now reducing dependency on external sources, India has truly arrived as a responsible stakeholder in its own growth. In this transformative journey, NMDC has played a pivotal role as the largest iron-ore producer in the country, contributing almost 16% to India's iron ore production with an annual output of 40 million tonnes."
He further said, "This new logo represents more than just a visual change; it encapsulates the essence of NMDC's role as a leader in India's sustainable path. Embracing the elements of nature, NMDC now stands committed to creating a world in a responsible and harmonious manner. My heartiest congratulations to Team NMDC for this defining moment. Sustainability is a key lynchpin, it will define the company's path in the years to come.
Shri Nagendra Nath Sinha said on the occasion, "Today marks a momentous occasion as NMDC embraces a transformative journey, shifting from mere industrial aspirations to forging a harmonious relationship with nature. With its forward-looking vision, NMDC is set to play a major role in realizing the National Steel Policy 2030 goals and contributing to India's bold economic growth vision. NMDC's commitment to sustainability is evident from its proactive publication of sustainability reports since 2017, even before it was mandated by the regulations. I am confident that NMDC will continue to make conscious efforts toward environmental sustainability, elevating the well-being of the larger stakeholder ecosystem. My best wishes go out to NMDC as it embarks on this inspiring path, setting new standards for a greener and more aspirational future."

Shri Amitava Mukherjee, CMD, NMDC expressed his enthusiasm for the new identity of NMDC and said, "Our new logo manifests NMDC's vision of NMDC 2.0. As a homage to our heritage, we retain the blue cog representing the mineral mining cycle, symbolizing the steadfastness and trust we have earned over the decades. Our legacy is strong, and we carry it forward with pride. In the center of the logo, you will see a hand cradling the earth, which signifies our commitment to sustainable & responsible mining and our global aspirations. The vibrant green color symbolizes growth, renewal, and harmony with nature. As we step into the future, we aim to leave a greener & cleaner footprint on this planet while being responsible to all our stakeholders – our customers, shareholders, employees, local community, the Government, society, and the environment."
The new NMDC logo encapsulates past achievements, present commitment, and future aspirations of NMDC. It represents the scale and strength of the company's future, driven by innovation and sustainability. NMDC is ready to embrace the challenges of tomorrow and is committed to setting new benchmarks in the mining industry.