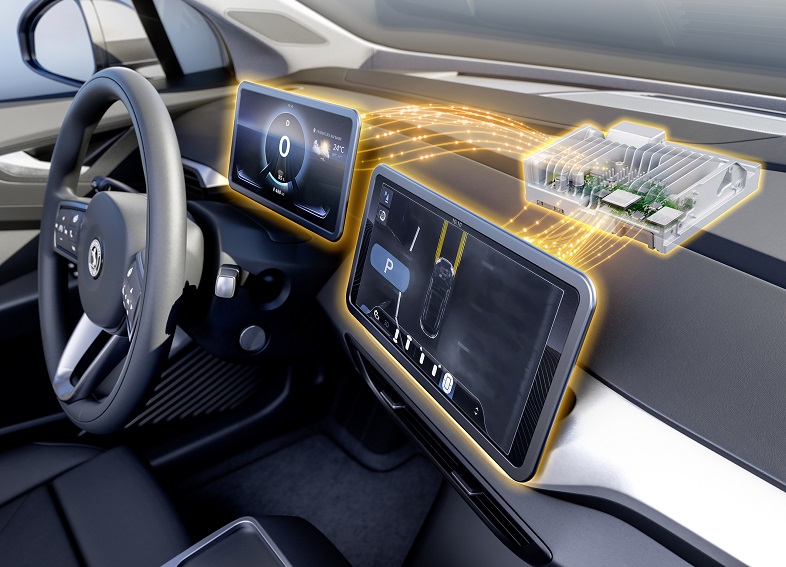 Regensburg, June 2023. With the Smart Cockpit HPC, Continental is presenting a high-performance computer (HPC) that offers ideally adapted system performance for a pre-integrated set of functions in vehicles. It's targeted at a balance between user experience, system performance, costs and short development time. With this development, Continental demonstrates its proven expertise in domain-specific and cross-domain HPCs and positions itself as one of the leading technology companies in the software-defined vehicle market trend and in the management of complex HPC projects.
"Continental provides the automotive market with a comprehensive range of HPC solutions. With the Smart Cockpit HPC, we now offer our customers the opportunity to bring an increasingly automated and exciting mobility experience to the road in a cost-optimized way and with short development times," said Jean-Francois Tarabbia, head of the Architecture and Networking business area at Continental.
The perfect intersection of different domains
The Smart Cockpit HPC convinces due to its ideally adapted system performance for a pre-integrated function set. It impresses with fast response times as well as a smooth user interface even for cross-domain functions. This approach enables vehicle manufacturers to minimize costs and time expenditure in the development phase together with Continental. Pre-integrated, state-of-the-art cluster and infotainment functions can minimize hardware costs in the cockpit area. The bottom line is a fast time to market – from order to start of production in 18 months.
Extensive function integration
The Smart Cockpit HPC enables the integration of various domains and functions, such as cluster, infotainment – with an interface to an Android Operating System – (display, radio, phone, phone- mirroring, and navigation) and Advanced Driver-Assistance Systems (ADAS). By combining all cluster and infotainment functions in one box, the Smart Cockpit HPC reduces the number of previously installed control units and extensive wiring harnesses. This significantly reduces the complexity of the vehicle architecture.
The system is designed for the typical configuration of two displays for the center stack and the instrument cluster but can be expanded to include up to three displays, e.g. a head-up display. Even though the Smart Cockpit HPC is a pre-configured solution, customer-specific adaptations can still be made regarding human-machine and hardware interfaces.
Continental develops pioneering technologies and services for sustainable and connected mobility of people and their goods. Founded in 1871, the technology company offers safe, efficient, intelligent, and affordable solutions for vehicles, machines, traffic, and transportation. In 2022, Continental generated sales of €39.4 billion and currently employs around 200,000 people in 57 countries and markets.