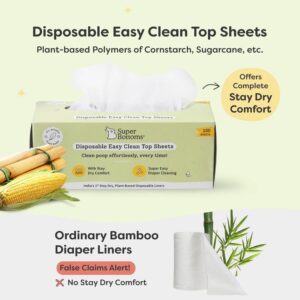 National, June 2023: SuperBottoms, the pioneer of cloth diapering in India, today announced the launch of Easy Clean Top Sheets – India's only Dry Feel diaper liner. The product has been introduced post extensive research conducted amongst India's largest parenting community – The Parent Tribe.
The survey focused on understanding the concerns and apprehension around using cloth diapers. The report highlighted that a significant 54.3% of current users still find maintaining a cloth diaper cumbersome while traveling and 24.8% expressed hesitation towards poop cleaning.
As a leader in the sustainable baby and mom care market, SuperBottoms is taking the commitment towards conscious innovation even further with India's 1st Biodegradable Disposable Diaper Liner. These Easy Clean Top Sheets are entirely biodegradable, unscented, non-toxic, and hypoallergenic that are designed to keep the infants dry and bacteria-free for 12 hours. The super thin plant-based liner sheets are primarily made from PLA, which is typically derived from fermented plant starch, such as corn, cassava, sugarcane, or sugar beet pulp – making the sheets completely biodegradable.
Commenting on the new launch, Pallavi Utagi, the CEO and Founder of SuperBottoms said "We have seen that even though parents understand and acknowledge that cloth diapering is better for their child as well as the planet, the perceived cumbersomeness and hassle often becomes a roadblock in making the switch. This is the first time that we as a brand are foraying into the disposable segment but without compromising on our commitment towards sustainability and conscious parenting. We hope that our step of intertwining comfort and convenience can enable parents to consciously choose what is best for the baby, themselves, and our world"
Once the diaper liner is placed on the cloth diaper, it holds all the solid waste. At the time of change, one can dispose of it in a bin and seamlessly wash the cloth diaper shell hassle-free. Apart from being convenient, this process is very economical. there is no excuse to avoid rash-free conscious diapering.
By developing not just India's but WORLD's simplest-ever cloth diaper – SuperBottoms the only CPSIA-certified brand created a product that brings the best of both worlds in one amazing diaper! With one-size-fits-all functionality, SuperBottoms enables the same diaper to be used for babies up to 3 years. Apart from this, born from other diapering needs for the baby are one-of-their-kind products like Dry Feel Langot, Diaper Pants, Potty-Training Pants, India's maximum absorbent Period Underwear- MaxAbsorb™, and many others.