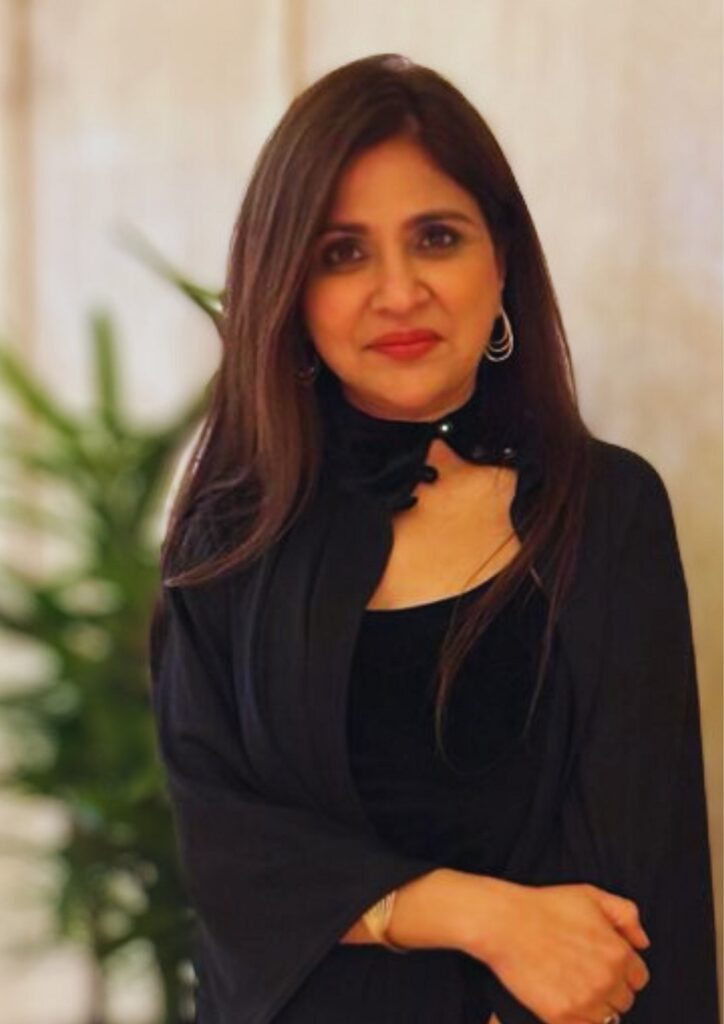 The future of Beauty & Wellness Education: challenges, solutions, and opportunities.; Monica Bahl, CEO, of Beauty & Wellness Sector Skill Council
The beauty and wellness industry in India has been growing at a rapid pace over the past few years. With increasing awareness about the importance of self-care, people are now more interested in investing in beauty and wellness products and services. This has led to a surge in demand for skilled professionals in the beauty and wellness industry, which in turn has given rise to the need for quality education and training programs in this sector.
The Beauty and Wellness industry of India offers unparalleled potential in terms of employment generation and overseas placements. Realizing the vast opportunity and huge challenge, the government has already initiated several initiatives through 'Beauty & Wellness Sector Skill Council (B&WSSC)' in terms of creating relevant content and curricula, information databases, delivery systems, standardization of accreditation and certification process, setting up industry-aligned infrastructure, etc.
To further develop and nurture the desired skills ecosystem in the beauty and wellness sector for economic growth and social development, the following are the recommendations with an overview of its future, challenges, and solutions ;
Some possible ways in which the future of beauty and wellness education in India could shape are:
As the beauty and wellness industry continues to grow, there is a greater need for professionals who possess a diverse range of skills. To keep up with the changing trends, educational institutions are likely to place a greater emphasis on skill-based education. This could mean that students will be exposed to a wider range of practical training methods, such as hands-on internships and apprenticeships. In addition, collaborations with industry experts may become more common, allowing students to learn directly from those who are already established in the field. Furthermore, the use of advanced technology and equipment is also likely to play a larger role in beauty and wellness education programs, as students work to develop cutting-edge techniques and stay up-to-date with the latest trends.
Integration of digital learning: The COVID-19 pandemic has accelerated the shift towards online learning, and beauty and wellness education is no exception. In the future, we could see more online courses, webinars, and virtual classrooms being offered to students. This could make education more accessible and flexible, while also allowing for greater collaboration and interaction between students and teachers.
Emphasis on sustainability and ethical practices: As consumers become more conscious of their impact on the environment and society, there is likely to be a greater emphasis on sustainability and ethical practices in the beauty and wellness industry. This could translate into more education and training programs that focus on eco-friendly and socially responsible practices, as well as the use of natural and organic products.
Challenges in Beauty & wellness Education in India
Beauty and wellness education in India is an industry that has seen tremendous growth in recent years. However, there are several challenges that need to be addressed to ensure that the industry continues to thrive and produce skilled professionals. Here are some of the challenges that need to be addressed:
 Lack of standardization: One of the biggest challenges in beauty and wellness education in India is the lack of standardization in the curriculum. This leads to a variation in the quality of education provided across different institutes.
 Limited resources: Another challenge faced by the industry is the limited resources available for training. Many institutes do not have access to the latest technology and equipment, which can hinder the quality of education provided.
 Perception of the industry: The beauty and wellness industry is often viewed as a low-paying and low-status career option. This perception needs to change to attract more students to the field and provide them with better career prospects.
 Lack of skilled trainers: The shortage of skilled trainers is another challenge faced by the industry. Many institutes struggle to find trainers who have the necessary skills and experience to provide quality education.
To overcome these challenges, the industry needs to work towards standardizing the curriculum, providing better resources for training, promoting the industry as a viable career option, and investing in training programs to produce more skilled trainers.
Increased focus on skill-based education: With the demand for skilled professionals on the rise, beauty and wellness education programs are likely to become more focused on imparting practical, hands-on training. This could involve more industry collaborations, internships, and apprenticeships, as well as the use of advanced technology and equipment.
Solutions & Recommendations: ;
1. Rationalise course curricula in the beauty and wellness sector with more focus towards
industry exposure. As the country's beauty and wellness industry is gradually shifting towards becoming more organised, professionals in the sector should be informed about the need for following professional standards in their services, seek formal industry-specific qualifications and certification by respectable organizations, as well as improve their existing qualifications through access to higher education and research. In order to provide candidates with hands-on practical training and make them employable and future-ready, the job-related mix of classroom/ lab and workshop/ OJT could be revisited to 10:20:70 from the current 20:60:20 mix for job roles in the beauty and wellness sector. The industry's involvement at this level will also strengthen the industry-academia connection and can move away from the trend of captive skilling by a few industry players to the industry's contribution to the skilling initiatives for the sector at large. Incorporating an element of extensive internship/ apprenticeship/ OJT opportunities for the candidates would help them in gaining work experience and a practical understanding of the work.
The lack of employer-led apprenticeship standards and career pathways in the sector results in lower demand from organisations to provide internship opportunities, thereby barring many students from availing of this learning opportunity. Accordingly, academic pathways should be created for apprentices, where apprentices can earn an advanced diploma/certificate using the credit-based system in the sector. The credibility of apprenticeship certificate should also be enhanced, through well-established and qualified third-party assessments. This will further help in strengthening the TVET ecosystem within the sector and making the sector more aspirational among the country's youth.
2. Enable early introduction of beauty and wellness courses in schools
As our current education systems emphasise knowledge-oriented training based on rote learning, rather than practical and experiential learning of what a student could perform in real life using his/her mind and hand, it is necessary to orient our students in school towards vocational education as an alternative career choice. The absence of such practical and experiential learning thwarts the process of innovation, imagination, and creativity among the learners, leaving the children bereft of any necessary knowledge or skills for what awaits them in the future – the uncertain and ever-evolving world of work. NEP 2020 calls for the integration of vocational education with mainstream education.
The aim would be to expose 50 percent of the learners in K12 and PG to vocational skills by 2025 and 100 percent by 2030. In this regard, schools can play an important role in disseminating awareness about career paths to students, should they choose to take up vocational courses.
Early introduction of such vocational education in the sector in schools would help students and parents to select alternative career options and develop a positive mindset toward the dignity of labor in the beauty and wellness industry. Mandatory participation and separate assessments for such courses would also remove the barrier of hierarchy within the education system.
3. Entrepreneurship development and facilitation support for beauty and wellness industries:
Industry interactions have highlighted that while more than 50 percent of vocational pass-outs in the
beauty and wellness sector opt for self-employment, there is also a noticeable tendency among the people working in the sector to start their own enterprises as soon as they have acquired a few years of industry experience. Such entrepreneurs in the sector would need a vibrant support system to sustain their businesses, foster entrepreneurship, and support higher levels of innovation and employment generation in the beauty and wellness industry. While it is necessary to take many initiatives in this regard, the most significant first step is to formalize their businesses through appropriate registrations to obtain a legal identity and link them with mentors, networking platforms, and loans. Governments play a key role in developing an enabling regulatory environment to unleash the potential of entrepreneurship within any nation. By reforming their policies, laws, and regulations, the government must ensure that entrepreneurial activities are facilitated by an ecosystem for entrepreneurship education and development.
There is also little awareness or dexterity among them in dealing with regulatory hurdles, given that most curricula do not include such education. It, therefore, makes sense to handhold them through their dealings with such statutory compliances, knowledge of different incentives and schemes under the different policies and programs in the sector, enterprise registration processes and functioning within the country.
In addition to this, entrepreneurship development in the sector could be further bolstered by designing an entrepreneurship development roadmap with the ethos of 'Aatma Nirbhar Bharat Abhiyaan' which would have elements of coaching from national and international practitioners in the sector, capacity building through relevant skills training programs, a platform to access market linkages, selection of right service-mix, customer segmentation techniques, hand-holding such entrepreneurs in times of necessity to cope with vagaries of business, among many others. ITIs/ training providers will be encouraged to introduce Micro-Entrepreneurship Development Programmes (MEDP) under which the institutes can help such trainees in designing, launching, and running their venture/start-up after their training is over or during the training period itself.
4. Promote Recognition of Prior Learning (RPL) for informal workers in the sector with
significant industry experience:
, As already highlighted, more than 60 percent of the workforce in the beauty and wellness industry of the country are school dropouts with minimal or no access to even vocational education. Many of these work in the unorganised sector, where, despite possessing the required skills in varying degrees of competencies, skill levels are highly underreported. A significant proportion of learning for such workforce happens on the job, which is difficult to quantify and certify. While candidates with industry-specific skilling and certifications have been able to gain skill premiums, workers without formal certification of skills are often deprived of a wage premium despite equivalent or even better skills standards.
Here RPL can act as the desired option for enabling the existing untrained/informally trained workforce to become certified. This will on one hand improve productivity and ensure reduced dependency of the labour market on non-formal and informal workforce against a skilled one.
Development of the RPL framework, whereby the current workforce across subsectors within the beauty and wellness industry can register and be certified by the B&WSSC, can go a long way in increasing the employability quotient of such workers. This is a critical step to increase the outreach and access of RPL to boost the morale of those who may not have completed schooling but have been a part of the workforce over the years. However, at the same time, it is important to offer higher NSQF level courses under the RPL framework and there is a need to expand eligibility to those already in the workforce (seeking re-skilling and part times) and being prepared for the upcoming challenges. It may, hereby, be mentioned, that till the end of 2021, only about 2.5 percent of such informal workforce have been trained and certified through RPL under PMKVY – significantly low compared to some of the other sectors such as agriculture, construction, tourism, and hospitality, media, and entertainment, etc.
Overall, the future of beauty and wellness education in India looks bright, with plenty of opportunities for innovation, growth, and collaboration. Whether you're a student, a professional, or an entrepreneur, there's never been a better time to invest in this exciting and dynamic industry.