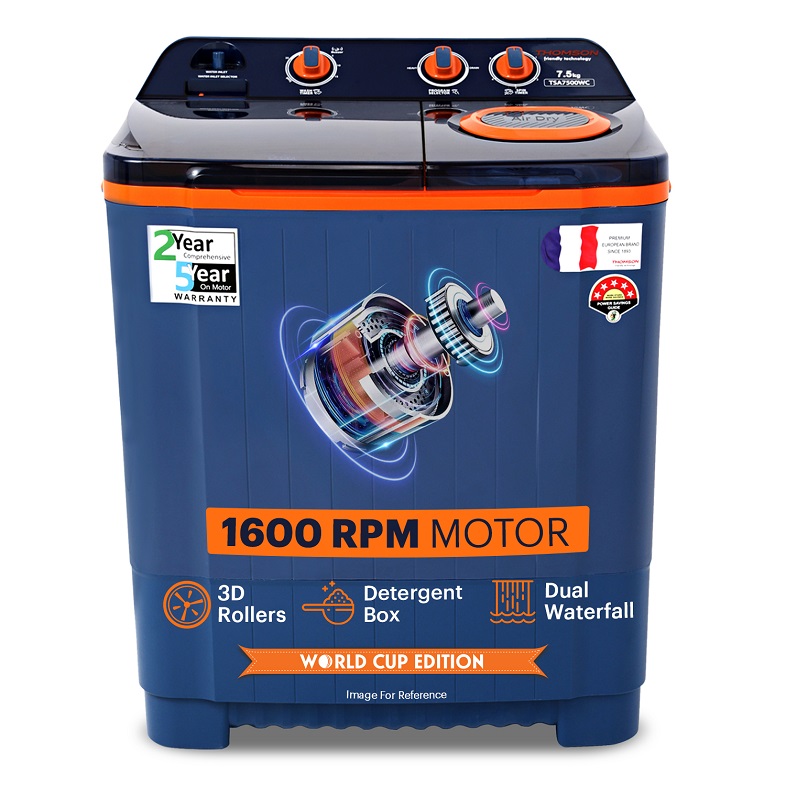 HYDERABAD, 9th October 2023: French Consumer appliances brand THOMSON announces the biggest deals of the year on all its product categories including Smart TVs, Washing Machines, and Air Conditioners during Flipkart's The Big Billion Days sale from 8th to 15th October 2023.
THOMSON also announces the launch of the World Cup Special Edition TV 43Alpha005BL with BLUE BEZELS along with a new Semi Automatic Washing Machine model in vibrant blue & orange color tones and with turbo excel technology.
With Android smart TV, Thomson has set out to make some unparalleled offers, giving out the most affordable Android TVs in the segment. Likewise, Thomson washing machines will start at 7 kgs making it the most 'premium affordable' product in its category. These discounts will be available during all 8 days of the festive season sale.
THOMSON has also entered a partnership with Disney Plus Hotstar to enable its customers to enjoy the OTT content with a free subscription.
THOMSON has recently announced the launch of its new range of products its QLED, OATH PRO MAX, and FA Series TVs for Indian consumers. New 43-inch QLED, 43-inch FA series TVs with Realtek processor, 55-inch Google TV with 4k display, and an all-new range of Fully Automatic Top Load washing machines.
Packed with features like 900 RPM, a Water reuse option, Energy efficiency, a digitally controlled Display, automatic imbalance correction, automatic power supply cut-off, tub cleaning, air drying, water recycling, and 24-hour preset (delay start), the new machines come with rust free plastic body, powerful motors transparent glass lids, buzzer and much more.
THOMSON ACs are available in fixed-speed and inverter segments, with the capacity of 1 ton and 1.5 ton each.
Commenting on the consumer sentiment this festive season and the BBD sale, Mr. Avneet Singh Marwah, CEO of SPPL, Exclusive Brand Licensee of Thomson in India, says, "Flipkart Big Billion Day Sale every year is the most important time for us and we are more excited each time. This year THOMSON has seen unprecedented growth with back-to-back launches in multiple product categories offering the best of technology and great pricing. We at THOMSON are always enthused to give our customers the best of technology which is solely now developed in India for the world. With our constant effort and the support of our loyal customers, we aspire to become the top-selling online home appliances brand in India."

Jagjeet Harode, Vice President of electronics, Appliances, and Private Brands at Flipkart, said, "We are delighted to expand our product selection with Thomson's new line of home appliances ahead of The Big Billion Days sale. At Flipkart, we are committed to meeting evolving consumer preferences and providing them with relevant products at affordable prices. The addition of Thomson's range of products to our marketplace is well-timed as customers gear up for festive shopping across the country."
The French Consumer Electronics Brand THOMSON has completed 130 years of successful business and growing every day. This year the brand Celebrates 5th Year of India Operations. The brand re-entered the Indian market in the year 2018 with its line-up of Smart TVs and since then, it has witnessed unprecedented success. Earlier this year the brand launched a new category of TVs, Air Coolers, and now with this new range of washing machines it further strengthens its portfolio of 'THOMSON HOMES'. The brand's rich legacy and constant focus to stay on top of the minds of its consumers whilst offering the best of technology at the most affordable price tag.-