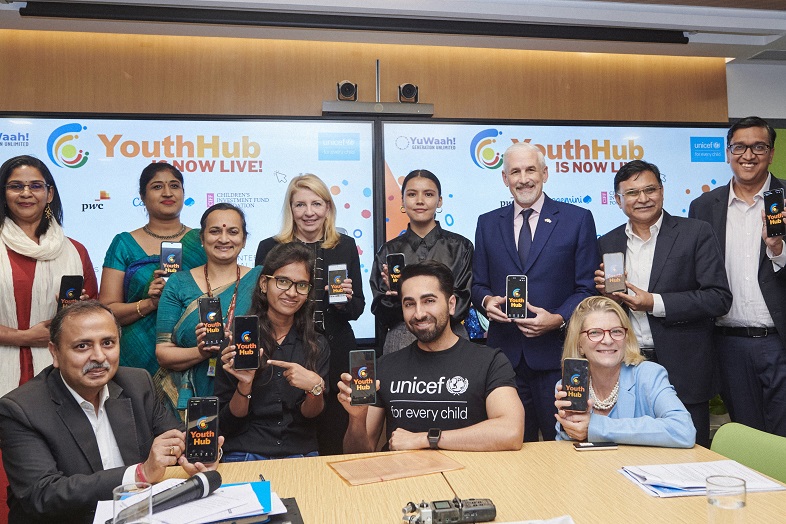 New Delhi, 05 October 2023: UNICEF Executive Director, Catherine Russell joined UNICEF India National Ambassador Ayushmann Khurrana, government officials, the private sectorand young people at the launch of an innovative, digitalYouthHub app to connect young people in India to future job opportunities, especially girls and marginalised youth.
The platform, which functions as a digital ecosystem, was jointly launched by them along with Mr. Shombi Sharp (United Nations Resident Coordinator in India), Smt. Meeta Rajivlochan(Hon'ble Secretary, Ministry of Youth Affairs and Sports), Ms. Cynthia McCaffrey (Representative, UNICEF India), Mr. Ashwin Yardi (CEO, Capgemini India), Mr. Ranen Banerjee(Government Sector Leader, PwC India), Ms. Vandana Bahri(Head, Skills and Livelihood, Children's Investment Fund Foundation – CIFF India), Ms. Dhuwarakha Sriram (Chief of YuWaah, Youth Development, and Partnerships at UNICEF), Mr. Abhishek Gupta (COO, YuWaah at UNICEF) and two young leaders – Ms. Zakira Ganji and Ms. Jagriti Pandey.
The YouthHub – co-created by YuWaah at UNICEF, PwC India, Capgemini, and CIFF – aims to connect young people to curated jobs, skills, and volunteering opportunities, and enable access especially for girls and youth from marginalised backgrounds. In its first phase, which was launched on Tuesday, the YouthHubapp has become accessible to young individuals via the Google Playstore. Serving as a unified platform, it offers free access to aggregated job opportunities in nine Indian languages, simplifying the job search process for young people:
Intersecting technology and innovation, the hub is a 'one-stop'application that integrates diverse platforms, tools, and resources, which aggregates curated economic opportunities for young people. The launch of the YouthHub marks a significant step in convening public, private, and youth partners to foster a generation of informed and skilled young people who can transition well from learning to earning.
Ms. Russell is visiting India this week to meet with government officials, members of the private sector as well as young people, children and some of India's frontline community workers.
UNICEF Executive Director, Catherine Russell, said:"Investing in children and youth is the best way to deliver on the Sustainable Development Goals and create a brighter future for generations to come. Collaborative initiatives such as this YouthHub are a good way to reduce inequalities and ensure that girls are included and have access to future job opportunities. We can create a lasting impact when young people are involved in decision-making and when their voices are heard."

Ayushmann Khurrana, Bollywood star and UNICEF India National Ambassador said, "Being a UNICEF India National Ambassador has allowed me to peek into the lives, dreams, and hurdles faced by the children and young people of our country. They are our future, and ensuring they have a fair shot at success is not just a choice, it's our duty. YouthHub app byYuWaah at UNICEF and partners is like a script for success for every young person in India. It's not just a platform; it's a dream factory that opens up doors to economic, skilling, and volunteering opportunities. But it's much more than that. It's a symbol of hope and the belief that every youngster, no matter their gender or background, deserves a shot at greatness. And we begin with equal opportunities for all. That's what theYouthHub app will extend to young people."