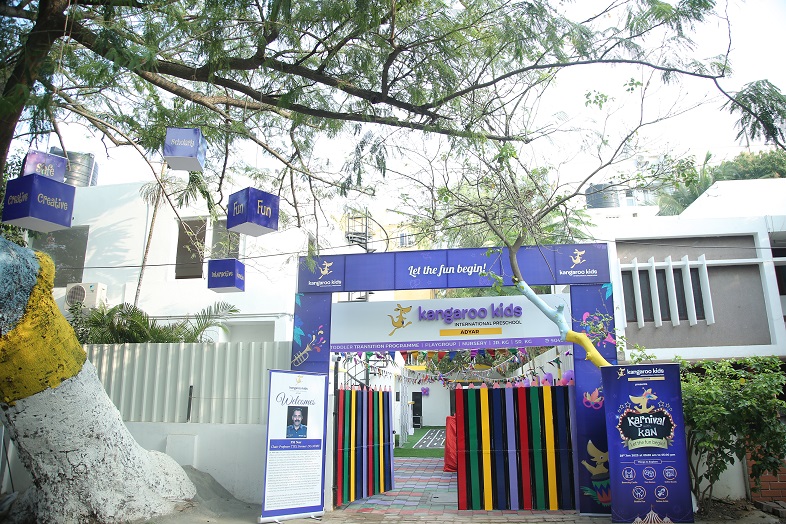 Mumbai, June 2023:Kangaroo Kids International Preschool, India's No. 1 Premium International Preschool Brand, announced its completion of 30 years of delivering excellence in Early Childhood Education in the country. Kangaroo Kids, which started its journey in 1993, today stands among India's most desired preschool brands. The brand reiterates its commitment to delivering transformative early childhood education through an innovative curriculum as it continues on its growth journey.
Kangaroo Kids began with its first preschool center in Bandra, Mumbai, on June 17, 1993and kickstarted a movement that transformed the face of preschool and preschool education in India. Though when it started out it faced resistance from everyone in the education field who were at that time entrenched in formal schooling and rote learning. The idea caught up with the parents, who were looking for a different way of education for their children. Today, this revolutionary model of education is imparted at over 130 centers of Kangaroo Kids operating in more than 36 cities across 6 countries and positively impacts2 lakh+children to date.
This preschool brand was set up with a strong belief that what a child learns and feels in the formative years has an impact on their lifelong health and learning. The brand's commitment to offering quality education extends beyond academics, as the preschool instills lifelong habits of success, ensuring that each child reaches their full potential in a way that aligns with their intrinsic personality which they tag as "Sparking human greatness". Their drive to constantly contemporize and innovate is what lies at the heart of the brand and through collaborative partnerships with like-minded people, Kangaroo Kids has made a remarkable social impact on the country through its unique and differentiated approach to teaching, benefiting numerous young learners
Keeping in mind the unprecedented changes happening in the world, in 2022, the brand took a step forward and re-conceptualized a whole new learning system. The iCan Learning System launched in early 2022 aims to instil the 9 future skills and 15 habits of mind in young children to nurture future problem solvers, innovators, and leaders. The curriculum transitioned to child-led learning and promoted classrooms where we hear more of children's voices; where teachers transition from being an instructor to being a thinker. With the fluidic learning methodology, they bring flexibility to children's daily learning routines with multiple opportunities for making choices with open and immersive learning spaces.
Expressing happiness overKangaroo Kids crossing the 30 years milestone in empowering young minds through quality education, KVS Seshasai, CEO, Pre-K Division, Lighthouse Learning, said, "We, at Kangaroo Kids, are extremely thrilled to mark this momentous milestone of 30 years of imparting high-quality education to young learners. We are very fortunate to be a part of this journey in preparing young minds for their future by equipping them with the right skills, habits, and values which will enable them to make the right choices for themselves. As a brand, we have been very conscientious of this responsibility we have towards the future generation and have always been on our toes to make sure that we always do what is right for the youngest of the generations that come to us. That thought has driven us to innovate pedagogies and bring forth several industry-first teaching initiatives as well as teacher training strategies."
He added, "It has been an incredible journey, filled with challenges, triumphs, and most importantly, a profound sense of purpose. As we celebrate this milestone, I look back with pride at the legacy of excellence we have built, and I look forward to the future with great optimism and excitement. We will continue to innovate, inspire and shape the future of education in India and beyond."
In addition to the curriculum, the brand's success in leading transformative early childhood education in India can be attributed to the best-in-class teacher-child ratio of 1:6 for personalised attention, specially curated spaces for an enhanced learning experience, and enrichment programs for extended learning at home. The brand's innovations in education have led to Kangaroo Kids winning numerous awards over the years, including 'India's Most Trusted Education Brand' by TRA Brand Trust Report India Study 2019, 'India's Most Desired Brand' by TRA Most Desired Brand India Study 2020, 'India's Most Preferred Franchise Preschools 2022-23' by Education World India Preschool Rankings and Education Brand 2022 by The Economic Times, among others.