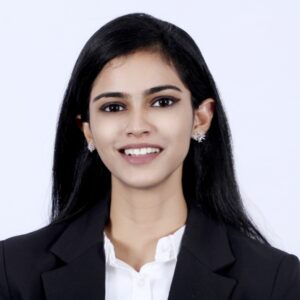 Bangalore/New Delhi, 20 March 2023, Sriya Sainath, MBA student at the Indian Institute of Management Bangalore (IIMB), was named 2022 Young Analyst in the inaugural IoA Analysts Awards from the Institute of Analytics (IoA), the global professional body for analytics and data science professionals. The awards were created to celebrate data's positive impact on business and society.
Sriya was nominated by Prof. U Dinesh Kumar, Chairperson at the Data Centre and Analytics Lab and member of faculty in the Decision Sciences area at IIMB, for being "extremely talented", for her strong technical skills, and for her commitment to excellence in all that she does.
Her list of accolades is long: In 2022 Sriya was awarded the Flipkart Vidyarthini Scholar from the Women in Supply Chain Conclave and won InsideIIM's Most Promising Incoming MBA Student from a field of applicants from India's top B-schools. She is a former Double Gold Medalist (Best All-Rounder & Institute Topper) and Double Endowment Award (Best Graduate & Engineering Eminence), and was recognised for her "academic brilliance" as a State Topper-ISC & Kingston Education Awardee.
Sriya received a Recognition Award by Global VP for Growth Mindset and Principles Obsession and was the Global Winner of the Microsoft Hack for Ethics from a field of 65k+ participants. Other achievements include Adobe Scholar from Women In Technology India, where she won out of 4k+ contenders and was recognized as "a promising future leader".
Her leadership positions include Global Representative at Women at Microsoft (2020), Vice President of the Literary and Debating Society (2018) and National Coordinator for Google Developers (2017) amongst other positions of responsibility. She also excels in extra-curricular activities having played Under-17 basketball for Odisha state and previously served as Convenor for the International Debating Championship.
In 2018, Sriya became a US Patent Holder for her Dynamic Pricing Model for maximising revenue with 30+% pricing optimization.
Sriya will become the first IoA Young Ambassador and will help champion the profession and encourage young people to have confidence in their data skills.
Dr Clare Walsh, IoA Director of Education, has this to say about Sriya's win: "Sriya has an impressive number of national and international recognitions already on her CV. She was chosen as our IoA Young Analyst because her achievements embody the qualities that we know that analysts need, and we hope that her role as an Ambassador for Young Analysts will inspire others.
"Her technical skills have been demonstrated beyond question in her academic and professional success. As the holder of a US patent, she has proven that age is not a barrier to contributing to the knowledge base in our field. We admire her teamwork spirit supporting others through the mentoring of newcomers while she was employed with Microsoft and in establishing a counselling service while at university. Ensuring GDPR compliance while working on a large data project shows her commitment to ethical work. Her success in debating competitions and her role on her school magazine demonstrated her recognition of the importance of communicative skills, as well as technical expertise.
"Having taken the lead on a number of successful projects already, she is now retraining in management and leadership skills and we look forward to seeing what she achieves in the future."
Sriya said "I'm grateful for the honor of being the recipient of the Young Analyst Award by the Institute of Analytics. Thank you to both the IoA as well as Prof. Dinesh Kumar for recognizing and having faith in my abilities. I believe this is an amazing initiative for guiding young data enthusiasts toward excelling in ethical data practice. I genuinely hope I can encourage others as well in honing their data skills diligently and responsibly [as an IoA Young Ambassador]."
The 2023 Analysts Awards will be launched later this year and will include all the categories from 2022 including Data for Social Good, Innovative Research & Application, and Young Analyst, and may include new categories.