The streaming world is becoming better and better for K-drama enthusiasts. From what started as a digital trend has now taken over the world by storm with their peculiar content. Fans can now watch a specially curated collection of some of the most popular K-dramas in Hindi, which are popular in India and throughout the world due to their engaging storylines and aesthetic perfection. The Korean dramas on different streaming services will keep you entertained with anything from high school romance, mystery to heartwarming medical stories. Gear up to get engrossed in the tales of courageous characters who deal with love, sorrow, and everything in between. Sit back, unwind, and enjoy the alluring list of international series with Hindi dubbing.
Cheer Up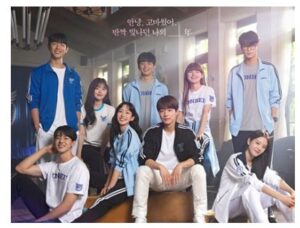 Get ready to be charmed by this heartwarming romantic drama with a dancing twist! Cheer Up is a high school drama that revolves around a cheerleading group and the struggles they face. Do Hae-yi, the main protagonist, is a Yeonhee University student. She prioritizes earning money over attending school because of her family's dire financial position. Do Hae Yi unexpectedly joins the Yeonhee University cheerleader team Theia.. What started off as a means to receive financial support, turns into a life altering decision as Do Hae Yi discovers the joys of college life and befriends several members of Theia, including Bae Young Woong, a key figure of the university. The plot of this heartwarming adolescent drama also includes a love triangle, heartache, and unrequited love. Fortunately for all romance enthusiasts, Cheer Up scratches the itchy craving for a mushy love story.
Director: Han Tae-seob
Cast: Han Ji-hyun, Bae In-hyuk, Kim Hyun-jin, Jang Gyu-ri, Lee Eun-saem and Yang Dong-geun
Episode: 16
Available on: Amazon mini tv
W- TWO WORLDS APART
Prepare for a romantic thriller with a twist! W examines Kang Chul, the lead actor as a fictitious manga character who only exists in the universe of his webtoon until one day when he begins to defy fate since his tale is being written by someone else. In popular culture, where fictional characters continue to exist thanks to their fans even after a show, book, or film ends, this K-drama imagines what would happen if the characters themselves wanted to continue existing or began acting independently of their creator. The drama with two worlds, the author's house and the world of the characters, gives the impression that the viewer is simultaneously watching two dramas as it features two parallel worlds, each with its own set of characters and events.
Director: Jung Dae-Yoon
Cast: Lee Jong-Suk, Han Hyo-Joo
Episode: 16
Available on: Netflix
Doctor Detective
In today's society, some people are mistreated and frequently become victims of tragic occurrences, such as workplace fatalities. With minimal effort, the majority of tragedies might be avoided beforehand. Most of them might be avoided with minimal effort. However, owing to the enormous expense, several businesses and government agencies do not plan for probable mishaps. Doctor Detective is a drama in which medical doctors treat patients who have been injured in industrial accidents and investigate the causes of the incidents. The drama begins when Joong Eun, a skilled medical practitioner, is offered a job at an UDC while coping with personal issues. And she begins to investigate her patients' maladies caused by industrial mishaps, working to uncover the truth hidden by those in power. Doctor Detective is a must-watch if you're in the mood for a suspenseful medical thriller!
Director: Park Joon-Woo
Cast: Lee Ki Woo, Park Jin Hee, Bong Tae Gyu, Park Ji Young
Episode: 16
Available on: Amazon mini tv
SNOWDROP
The forbidden relationship between North and South Korea has always been popular with viewers. Contrary to its mellow and serene title, Snowdrop is expected to be explosive and tumultuous. Its core is convoluted politics, together with the allure of a doomed relationship and conflicting allegiance. A love story between a North Korean spy and a college student, Snowdrop travels a challenging and perilous route against the backdrop of 1987, when many protesting students were falsely identified as North Korean spies and brutally put down through imprisonment and torture. Graduate student Lim Soo-ho is discovered bleeding and injured by Eun Yeong-ro in the dorm of her women's university in Seoul. She hides him from his assailants against her better judgment and runs the risk of being ejected while doing so. She is unaware that he is harboring a secret that might endanger the lives of her, her friends, and her family.
Director: Jo Hyun Taek
Cast: Eun Yeong-Ro, Kim Ji-Soo
Episodes: 16
Available on: Disney+ Hotstar
HEART SURGEONS
Everyone has a heart. Your life is dependent on that microscopic organ, around the size of your fist. Park Tae Soo, a heart surgeon fellow, must save his mother, who is awaiting a heart transplant. However, Choi Seok Han is the chief of the Chest Surgery Department, and he chooses whether Tae Soo's status will be maintained or not. Every day is a challenge at Taesan Hospital's Chest Surgery Department. The excellence of university hospitals is determined by the departments of chest surgery. Residents' abilities are demonstrated there. Some people die in the operating room, and those who are unsure of their abilities avoid performing surgery. However, the Chest Surgery Department's doctors are divided into two groups: those with the necessary skills but no power, and those with power but insufficient expertise. Even though the lives of patients depend on them, this forces them to compete with one another in an unpleasant way. If you're in the mood for a medical melodrama with a twist, look no further than Heart Surgeons.
Director: Jung Dong Yoon, Jo Young Kwang
Cast: Go Soo, Uhm Ki Joon, Seo Ji Hye
Episodes: 32
Available on: Amazon mini tv
The above-mentioned Hindi dubbed Korean dramas offer a variety of genres and storylines, ensuring that there is something for everyone. Watch all at one go, or divide them across the week or the month, indulging in some light-hearted romantic, dramatic, and quirky narratives with many twists and turns!!