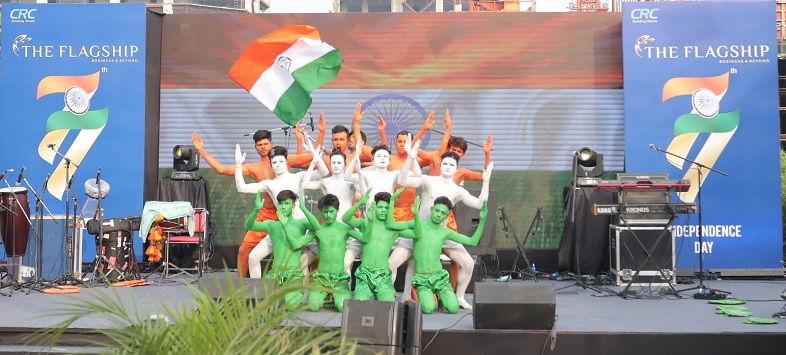 CRC The Flagship, the ideal commercial destination situated in Sector 140A along the Noida Expressway, hosted a grand celebration to commemorate the 77th Independence Day of the nation. The event was a resounding success, marked by boundless enthusiasm and patriotic fervor, as visitors immersed themselves in an array of captivating experiences with diverse offerings that catered to every facet of the festive spirit.
The celebration offered a number of experiences, including delectable food stalls and a vibrant shopping arcade, ensuring a delightful experience for all attendees. Highlights of the evening were electrifying performances by India's Got Talent season-1 winners, the Prince Group, who painted a mesmerizing dance saga on stage, capturing the essence of the nation's rich culture. Sudhir Yaduvanshi, a celebrity singer, embarked on an epic musical journey, enthralling the audience with his soulful renditions.
RJ Vidit added humor to the festivities with his live tales, leaving everyone with hearty laughs and joyous moments for the crowd. The event also witnessed the artistic brilliance of Master Kite Flier, who painted vibrant stories in the sky, leaving spectators awe-struck.
Mr. Salil Kumar, Director, of CRC Group, shared his sentiments, stating, "Independence Day is a moment of unity and pride for our nation. We are thrilled to have celebrated this occasion with our community, fostering bonds and creating cherished memories. The diverse experiences offered our visitors a holistic and engaging environment. Our special guest performers added flavour to the event with the best visuals we could have expected."