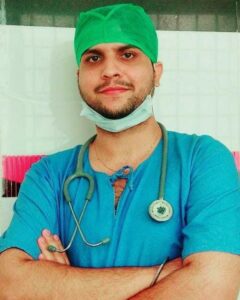 Everybody loves healthy, glowing, and smooth skin and when it comes to brides then it becomes a matter of concern to have healthy skin. Here, Dr. Rishabh Raj Sharma, MD Dermatologist at NIIMS Hospital has a few tips a bride should follow before bridal makeup to have radiant and flawless skin on her auspicious day. Following are the skin care tips for brides before bridal makeup-
Start with a gentle cleanser to remove any dirt, oil, or makeup residue from your face. It is very important to clean your skin before and after applying makeup.
Exfoliate your skin 2-3 times a week to remove dead skin cells and reveal a smoother complexion. Exfoliation will make you feel confident about your look as it will be free from dead skin with healthy and glowing skin.
To tighten pores and balance the pH of skin use toner. It is important to balance the pH level of the skin to make it hydrated and refreshed.
Apply a hydrating serum or essence to provide extra nourishment and improve skin texture. It will improve the tone and appearance of the skin.
Moisturize your skin with a suitable moisturizer that addresses your skin's needs. The moisturizer also reduces aging, fine lines, and wrinkles.
Use an eye cream to hydrate the delicate skin around the eyes and reduce puffiness and dark circles. An eye cream provides extra nourishment and hydration to the skin with an illuminating appearance.
Don't forget to apply sunscreen with at least SPF 30 to protect your skin from sun damage. Sunscreen will prevent skin from premature aging and sunburn.
Consider using a facial mask that suits your skin type and concerns a day or two before the wedding for an extra boost of hydration or brightening. Face masks improve the appearance of pores and remove excess oil to have fine and smooth skin.
According to Dr. Rishabh Raj Sharma, MD Dermatologist at NIIMS Hospital-
Use products that you have used before to avoid any new skincare products close to the wedding day to prevent potential reactions or allergies. Stay hydrated by drinking plenty of water and eating a balanced diet to promote overall skin health. Consistency is key, so start your skincare routine well in advance to give your skin time to adjust and look its best on your big day.