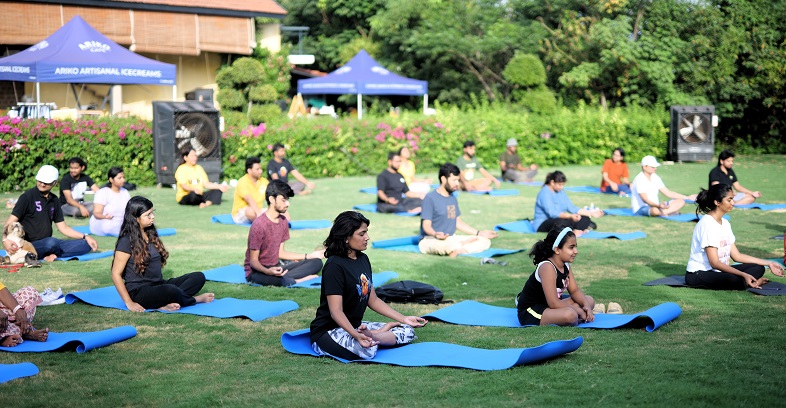 Hyderabad, June 2023: Woods, a leading eco-conscious real estate company, successfully organized a grand event in celebration of International Yoga Day at the world's largest Miyawaki forest located in Hyderabad.
The event aimed to raise awareness about the numerous benefits of yoga, showcasing India's rich yoga tradition to a global audience. Participants were encouraged to embrace yoga as a way of life and experience its transformative effects on mental health and overall well-being.
"We are delighted to have hosted such a significant event on International Yoga Day," expressed the spokesperson for Woods@Shamshabad, a division of Stonecraft Group. "Yoga has become a global phenomenon, and it is essential to educate individuals about its positive impact on individuals and communities alike."
The yoga awareness programs featured interactive sessions, workshops, and demonstrations, providing attendees with the opportunity to explore various yoga styles and techniques. Guru Kunal Sahni, a highly esteemed expert in the field, guided participants through a variety of yoga poses and breathing exercises, fostering unity, harmony, and cultural exchange.
Woods@Shamshabad organized these programs with the objective of promoting a healthier lifestyle, enhancing physical and mental well-being, and strengthening cultural relations between India and other countries. The event welcomed individuals of all ages and fitness levels, creating an inclusive and accessible platform for anyone interested in discovering the transformative power of yoga.
The International Yoga Day event at Woods@Shamshabad was attended by a diverse range of participants who wholeheartedly embraced the holistic well-being experience. The serene and tranquil environment of Woods@Shamshabad served as the perfect backdrop for this inspiring event.
Woods@Shamshabad extends its gratitude to all the participants, sponsors, and partners who contributed to the success of the event. The brand remains committed to its mission of building communities through wellness programs and retreats that rejuvenate the mind, body, and soul.