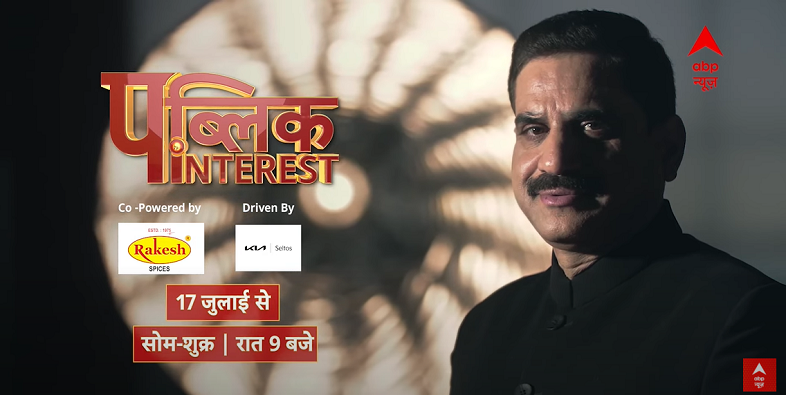 New Delhi/Mumbai/July 13, 2023: ABP News, one of India's leading national Hindi news channels is proud to announce the launch of its ground-breaking prime time show, 'Public Interest'. This show, as the name suggests, aims to amplify people's voices by addressing the day-to-day issues faced by them while also trying to find solutions to those issues and take the story/ investigation to its logical conclusion. 'Public Interest' is set to premiere on July 17 at 9 PM on ABP News.
In an age where prime-time television news programming is studio-based and discussion-heavy, 'Public Interest' aims to reach out to people and opinion makers by doing on-ground reporting, investigative stories, and exclusive interviews, bringing the focus back to the common man and setting the agenda to resolve people's issues. The show seeks to bridge the gap between the newsroom and the common man by ensuring that their stories are heard, understood, and acted upon.
The prime-time show will be people-centric bringing exclusive content to its viewers through well-researched stories and issues. To ensure accuracy and reliability, each story presented on the show will undergo thorough investigation, fact-checking, and analysis.
Jagwinder Patial, an acclaimed journalist with an illustrious career spanning over 25 years, will host the show. Jagwinder is the winner of the prestigious Ramnath Goenka Excellence Award for Journalism and has consistently broken impactful stories. His ground-breaking stories from Afghanistan's conflict zones (ISIS stronghold territories) and reporting from violence-affected/riot-hit areas have made him an acknowledged journalist. He is also known for his 'super exclusive' interviews with controversial figures who have made headlines. His recent interview with gangster Lawrence Bishnoi from the jail premises in Bhatinda created headlines across the media landscape in the country.
Speaking on the launch of the show, Jagwinder Patial, Executive Editor, of ABP News, said, "I am honored to be a part of 'Public Interest,' a show that aligns with my belief in the power of journalism. This show is a testament to our commitment to the people of India, providing them with a platform to voice their concerns and struggles. I am thrilled to bring forth stories that deserve attention and contribute to fostering a more informed society."
ABP News invites its viewers and stakeholders to join them on this journey toward creating a more inclusive and informed society. Through 'Public Interest,' the channel aims to empower the common man by ensuring that their concerns are not just heard but acted upon.
Mark your calendars for the much-anticipated premiere of 'Public Interest,' set to grace your screens on July 17 at 9 PM on ABP News.