Running is an addiction. Ensure fitness through running. It will be a lifelong activity: Manchu Vishnu, Film Star and MAA President
Expo showcases thrilling sports, ancient sports, competitions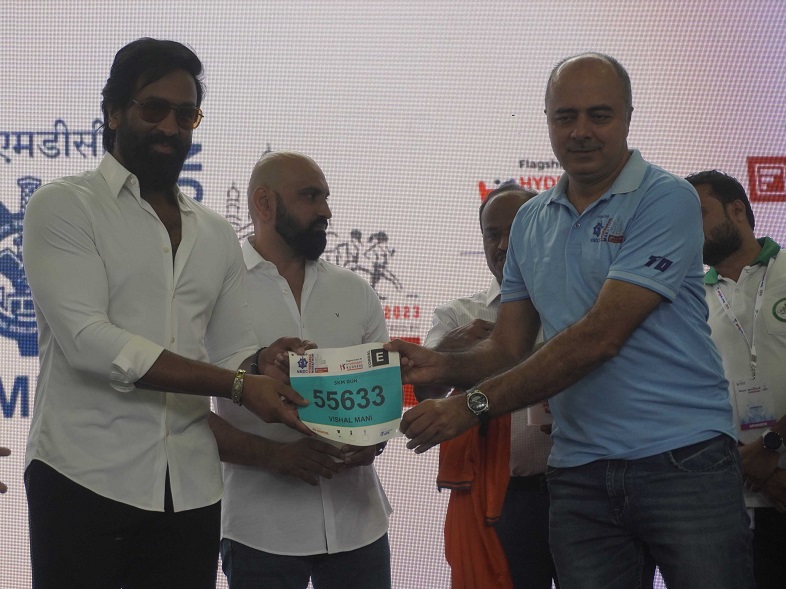 Hyderabad, August 25, 2023……Manchu Vishnu, film star and the President of the Movie Artistes Association Inaugurates Sports Expo India 2023 at Hitex which features thrilling activities, stunts on bicycles, Mallakhamb (ancient sport), and box cricket among others for the next three days.
Speaking on the occasion, the film star, who is also a fitness freak said, referring to the proposed NMDC Hyderabad Marathon 2023, the Marathon Partner to Sports Expo, which will be held this weekend, said Running is an addiction. Once you start, you will never quit it. Exercise is an addiction. So is running. It is a lifelong activity. I believe the Hyderabad Marathon is the second-largest Marathon in the country. We must cultivate a running culture in the city to keep fit. Being a Hyderabadi I am proud that many fitness activities like Sport Expo India, NMDC Hyderabad Marathon 2023 and others are held. Running is the best fitness activity. Be fit, and live life to the fullest, he told his fans and people in general. Eat whatever you want, but, stay fit, live long, was his message to all.
Mr. Srinivas Gutti, IDFC Regional Head, Branch Banking, Mr Srikanth T.G, Business Head, Hitex Business Center; Mr Abhijeet Madnurkar President, Hyderabad Runners; Mr. Prashant Morparia, Race Director – NMDC Hyderabad Marathon, Arun Kaliappan Secretary, Hyderabad Runners joined Manchu Vishnu in the inauguration.
It is the sixth edition of Sportex India 2023. It is a 3-day Fitness and Sports Related Expo, which will continue till 27th August and is being held at Hitex, Madhapur. It is organised by Hitex.
100 exhibitors are showcasing games, facilities, fitness products and services. It is open from 9 am to 8 pm. All are welcome. There is no entry fee. Nearly 30,000 visitors are expected to visit it during the three days
It is the biggest Sporting Festival in Hyderabad. It features thrilling activities and stunts on bicycles among many interesting sports. SportExpo India 2023 is a destination for sports, fitness and related activities from Yoga to Mallakhamb to Box Cricket to Cyclothon to Body Building, the Sport Expo has everything for everybody, informed Srikanth TG
The exhibition is a small step towards the fitness revolution in our society. For the first time it is going to be a sports and wellness ecosystem on a single platform, Mr. TG Srikanth added.
Various sports championships, Cyclothon, Mr.Sportex Bodybuilding Championship etc. are being held as part of the expo.
The Bhagyanagar Bodybuilding Association is organising The MR. THE SPORTEX CLASSIC INDIA event on August 27, 2023. It is approved by the Telangana Bodybuilding Association. It has a total prize money of Rs. 5 lakhs in cash awards, the competition includes Bodybuilding Weight Categories ranging from below 55 kg to above 85 kg.
Hyderabad Runners is the marathon partner to the Sports Expo. NMDC Hyderabad Marathon will be held for the 5K- a curtain raiser run on 26th August at 7 AM at Hitex. It will start and end in Hitex. On 27th August the three runs will flagged off. The Full Marathon will kick off at 4.30 AM, Half Marathon and 5.30 AM, both will be flagged off from People Plaza, Necklace Road and conclude at Gachibowli stadium. The 10K Run will be flagged off at 6.30 AM from Hitex, Madhapur and will join Half and Full Marathon route near IKEA Circle and will finish at Gachibowli Stadium informed Mr. Prashant Morparia, Race Director. 21000 runners on the whole are expected to participate, of which 6500 will participate in 5K run and the balance 15500 will participate in 10K, Half and Full Marathon, informed Mr. Arun Kaliappan Secretary, The Hyderabad Runners.
Sports Expo is also serving as a platform for Sports-Related Startups. One startup worth mentioning here is Up-Liv. It does breathe, posture, and stance analysis and provides therapies.
3×3 basketball, badminton, table tennis and box cricket championships are some of the highlights of this edition
A 5 km Aptronix Cyclothon will be held inside HITEX on day 3. It will be organised by HCG, AD11 Sports, and HITEX, on August 27th, 2023, at HITEX, Hyderabad.
In the showcase segment, Calisthenics, a form of strength training will be showcased.
A Battery Management System (BMS) bikes; Mallakhamb, a form of ancient sport intended as a training aid for wrestlers and ancient warriors; FreeStyle Football; and Taekwondo will be demonstrated and trained sportspersons to introduce them to the visitors.
It has an exclusive Yoga Pavilion that will hold yoga and related activities on all three days by reputed yoga organisations—namely, Art of Living, Sahaja Yoga and Navyoga.
Hyderabad Cyclist Group will promote cycling to make Hyderabad the cycling capital of India
The schedules of some of the activities are as follows
Callisthenics (a form of strength training) will be showcased at 2om on the 26th and 27tg August; Box Cycling and Skateboarding at 1om on the 26th and 27th; Malkhamb at 4 p.m. on the 26th and 11 a.m. on the 27th and Taekwondo at 3 pm on 26th and 12pm on 27th.