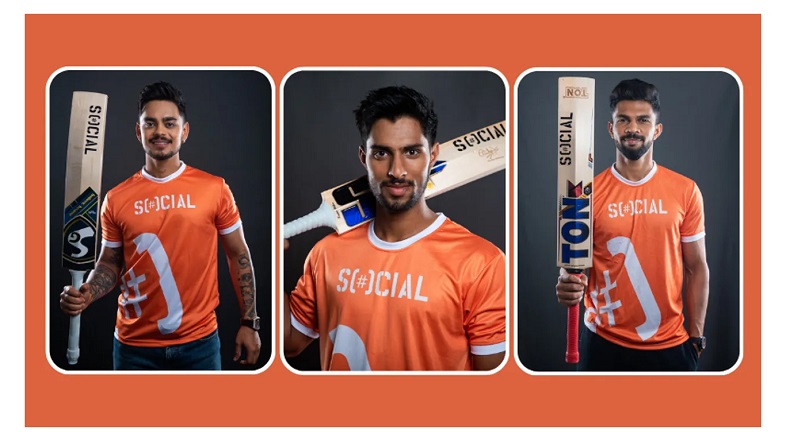 Mumbai: As the cricket season engulfs India and the world, SOCIAL, a collective of creative neighborhood cafés, is excited to launch its latest initiative celebrating the spirit of the sporting season.5th October 2023 onward, all SOCIAL outlets across the country are hosting a cricketing frenzy offering a special cricket-themed menu, delectable munchies, wholesome meals to enjoy with your gang, a host of engaging initiatives, summed up with décor to give fans those stadium feels. India's favorite hangout spots are turning into the #DoosraStadium, as patrons share in the joy and high of watching cricket with their buddies and loved ones!
The Stad-Yum Menu!😋
Fans can now immerse themselves fully in the unmistakable cricketing atmosphere at their favorite SOCIAL outposts, where a specially curated menu awaits. Scores of cricket-inspired dishes are now available for patrons during the season – such as the delectable 'A.B. De Ribs,' the tempting 'ChaukaChakka Platter,' the nostalgic 'The 1983 Samosa Sampler,' the satisfying 'The 2011 Bucket,' the innovative 'The "Doosra" ShroomShawarma,' and the hearty 'The 2023? Platter,' among other cricket-themed, delish options. SOCIAL has also collaborated with Short Story (with SOCIAL's very own Super Troopers) and Bira 91 to offer exclusive and special beverages to all its patrons across India during this season.
Get onto the Pitch, for VR-eal!🕶️
Fans can also step into an immersive virtual reality (VR) zone at select SOCIAL outlets to fully immerse themselves in the stadium's intensity, offering an enthralling experience that goes beyond the typical dining setting. Here, they can truly feel the highs and lows, the jubilation and tension, as if they were right in the midst of a cricket stadium. To add to the excitement, SOCIAL is hosting a leaderboard, and top contenders have the opportunity to win exclusive, official merchandise! SOCIAL has partnered with iB Cricket, India's leading VR gaming company, to roll this out across 10+ SOCIAL outposts in India till 19th November 2023.
Exclusive fan merchandise, at a SOCIAL near you!🏏
In an extraordinary partnership with FanCode, India's premier sports destination, SOCIAL is poised to redefine the cricket-watching experience. Through a unique collaboration with FanCode Shop, fans have the opportunity to experience official merchandise and get special discounts at Trailblazer SOCIAL outposts. This means that even if die-hard fans cannot make it to the stadium, they can still get their hands on some authentic merchandise!
Expressing his excitement about this collaboration, YannickColaco, Co-founder, of FanCode, said "Cricket in India is not just a sport; it's an emotion that unites millions. This initiative with SOCIAL is all about taking this emotion and turning it into a tangible experience. This partnership allows us to boost access, extend our reach, and provide fans with an opportunity to engage with the sport like never before."

Mayank Bhatt, Chief Executive Officer, of Impresario Entertainment & Hospitality Pvt. Ltd. said, "SOCIAL has always been that community-centric café where friends and families come together to create shared memories over fun and food. At the intersection of community and fun, lies sports. With #DoosraStadium, we're bringing this sense of togetherness to life, celebrating alongside like-minded supporters and fans. From exclusive merchandise to a specially crafted menu, every element comes together to recreate the stadium-like experience in your city at a SOCIAL outpost near you!"
As India's leading café chain, SOCIAL has been at the forefront of offering community-driven experiences around sports and entertainment; and the upcoming season promises to be no less with even more exclusive collaborations and engagements in store that create the ultimate second stadium experience for viewers, as they cheer on their favourite teams. Fans can come with their gang and predict the sixes and fours, surround themselves with a vibrant community of cricket enthusiasts, igniting an unparalleled excitement as curated cricket-themed cocktails and delicacies are served at all their favourite SOCIAL outlets from 5th October till 19th November, 2023.