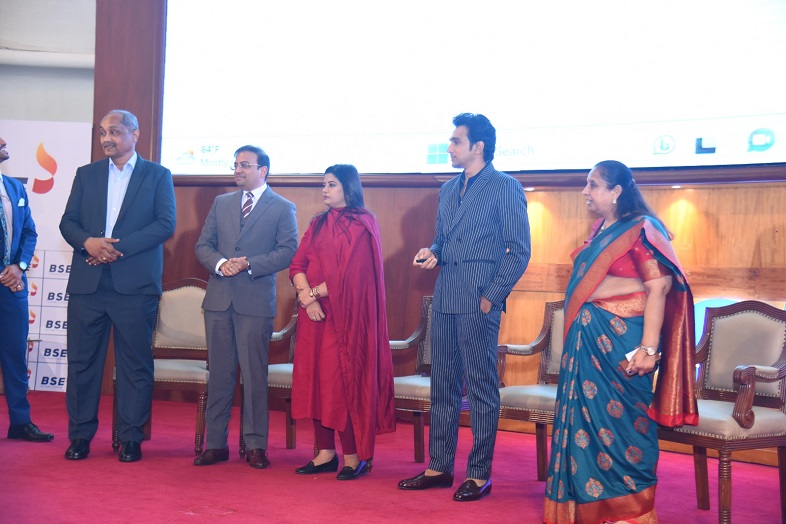 New Delhi, Wednesday, August 2023: Asit C. Mehta Investment Intermediates Ltd (ACMIIL), a leading brokerage house and subsidiary of Asit C Mehta Financial Services Ltd, (ACMFSL), (BSE-530723| ASITCFIN), announced the launch of upgraded version of its web, mobile and exe downloadable app -investmentz.com. The latest version of investmentz.com was unveiled by Bollywood actor Pratik Gandhi at the Bombay Stock Exchange.
The new version aimed at investors, traders, and business associates is designed to provide a seamless and flexible trading and investment user experience. Brokers can execute the trade on behalf of investors. Besides, investors themselves can download the app and execute the trade more proficiently.
Mrs. Deena Mehta the First and only woman President of BSE and the Managing Director of Asit C. Mehta Investment Intermediates Ltd, said, "We at ACMIIL, have always been at the forefront of technology enablement. This is largely to assist our clients and associates in running their businesses skilfully and in a cost and risk-efficient manner. The launch of our new BAT app will help in channelizing the larger investor pool driven by investors beyond metros. We are extremely confident that we would be right on top from a technological innovation perspective in the industry."

Ms. Madhu Lunawat, Director on the board of ACMIIL and Executive Director at Pantomath Group, said, "We treat our business partners more like family and will always be supportive of their expansion as a company. In addition to assisting our associates and partners with their technological needs, we are also working to promote their business growth through lead generation along with various other strategic initiatives. The BAT app is a step to transform Tier II and Tier III regions into growth enablers for India, as collective growth is the key to improving the Indian economy."

Bollywood actor Pratik Gandhi, said, "While most companies are focusing on larger cities and larger investors, ACMIIL is going to smaller cities and working with smaller investors to create financial awareness across the country."
investmentz.com is a wider platform within which there are multiple apps dedicated to mutual funds, fixed income, IPOs, stock broking, and stock portfolios. One of the upgraded versions meant for stock broking is called BAT (Best Application to Transact) and is built-in investmentz.com. In addition to BAT, multiple other integrations too are added for a rich user experience. The latest version of the app is developed by a sister company within Asit C. Mehta Group – Edgytal.
Pantomath group has recently been in the news for IPOs and acquisitions and made a strategic investment in the ACMFSL group in October 2022 acquiring a significant stake.