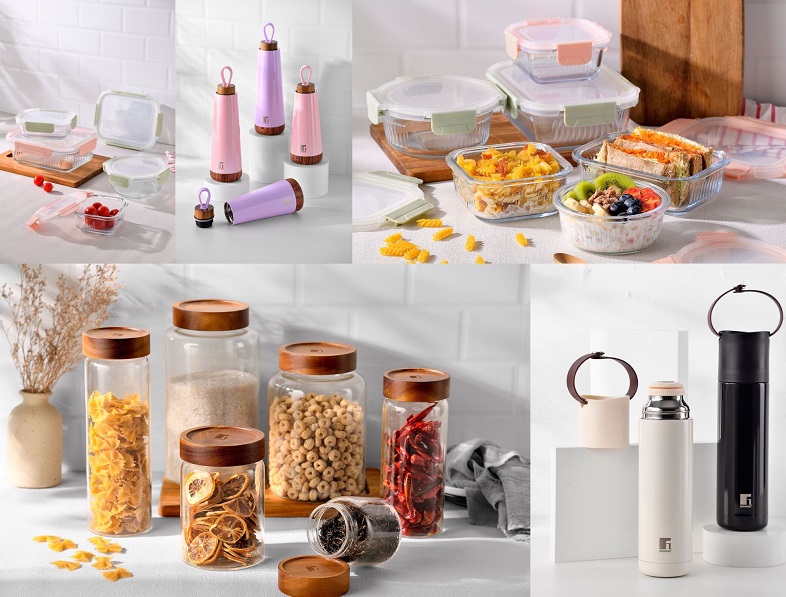 Mumbai, 18th October 2023 – BERGNER, a leader in the kitchenware solutions industry, is delighted to unveil its three latest ranges providing storage solutions: The "Walking by BERGNER" range featuring vacuum flasks and bottles, "Acadia" with storage jars, and "Smart Lock" comprising tiffin boxes. These ranges embody cutting-edge innovation, enduring functionality, and elegant design.
Walking by BERGNER – Your Path to Better Living
Walking is a range where practicality and style converge. It features expertly crafted double-wall stainless steel (of grades of 304 and 316) vacuum flasks and bottles, with a modern aesthetic. In today's fast-paced world, staying hydrated can be a challenge, but Walking makes it easy by allowing you to carry homemade drinks and water while maintaining temperature retention. What sets Walking apart is its durable, rust-proof, and leak-proof design, ensuring safety with acidic beverages and eliminating spills all without breaking the bank.
Acadia Jars – 100% Guaranteed Airtight containers
Meticulously crafted with BERGNER's trademark precision, Arcadia Jars are a perfect functional addition to your kitchen. These jars are constructed from robust borosilicate glass, capable of withstanding high temperatures, and are effortless to clean. Featuring a minimalist design that combines transparent glass with wooden lids, they add a touch of natural elegance to any kitchen space. These jars also come equipped with a secure seal that guarantees the freshness and moisture-free storage of your flour, tea powder, biscuits, and more. The range provides multiple shapes and sizes to complete all your storage needs!
Smart Lock Food Containers – Innovative Food Storage
Smart Lock food containers are a space-saving wonder with their stackable design which allows you to maximize your kitchen storage effortlessly. The range boasts of a distinctive lid with secure locking tabs and an integrated ring that guarantees that your lid stays firm, offering both convenience and peace of mind during meal prep. Moreover, the Smart Lock lid is meticulously crafted to envelop every edge of the glass container, including the corners to safeguard the glass and preserve your food's freshness for extended periods. The containers are available in multiple colors and are leak-proof offering a great grip.