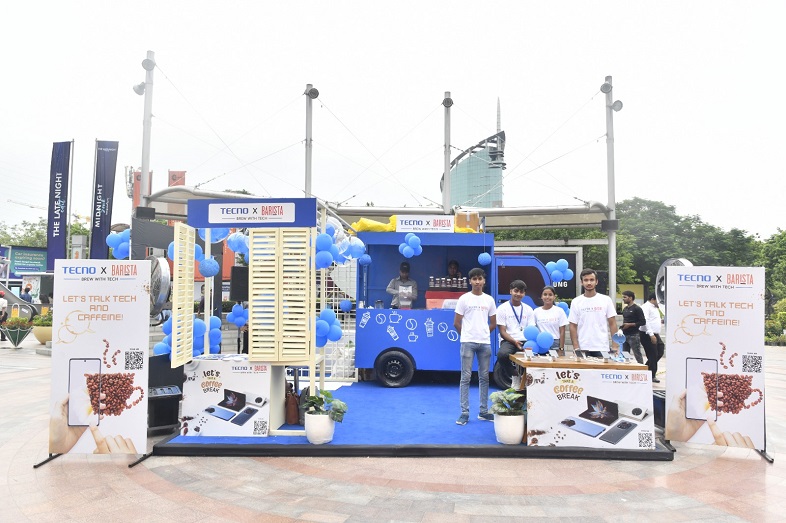 New Delhi, 10th July 2023: TECNO, a leading global smartphone brand, announces its collaboration with Barista, one of India's most popular coffee chains, to offer a unique and engaging experience, "Brew With Tech", bringing together technology and the love for coffee.
Under this partnership, TECNO and Barista will initiate a series of activities designed to bring customers closer to the TECNO brand while enjoying their favorite coffee. Celebrating its customers, every TECNO user who visits the café over the 4-day event will receive a complimentary cup of coffee. By merging technology and the coffee culture, TECNO and Barista aim to create an unforgettable experience for all visitors.
The coffee and tech mavericks can engage in daily organised Lucky Draw as well, where the coffeeholic would stand a chance to win TECNO smartphones. To further add a touch of excitement to the event, TECNO will introduce an engaging game/quiz for customers. Participants will have a chance to win free exciting TECNOxBarista goodies.
The centerpiece of this collaboration is the TECNO Smartphone Experience Zone, where customers can explore and experience TECNO's latest smartphone line-up firsthand. This dedicated zone will feature the following showcased products: Phantom V Fold, Phantom X2 Pro, Camon 20 Premier, Camon 20 Pro 5G, Spark 10 5G, and the upcoming POVA 5.
Commenting on the collaboration, Arijeet Talapatra, CEO, TECNO Mobile, said, "We are excited to join forces with Barista to deliver a one-of-a-kind coffee experience for our customers. By merging the love for coffee with our cutting-edge smartphone offerings, we aim to create unforgettable moments that resonate with the Zillennial generation. This collaboration reflects our dedication to engaging with customers and providing them with unique and distinct experiences that showcase our innovative products in an interactive and enjoyable setting."
The unique Brew With Tech experience will run for four days, from July 6th to July 9th, between 12:30 PM and 8:30 PM at Exhibition Area, Cyber Hub, Gurugram.