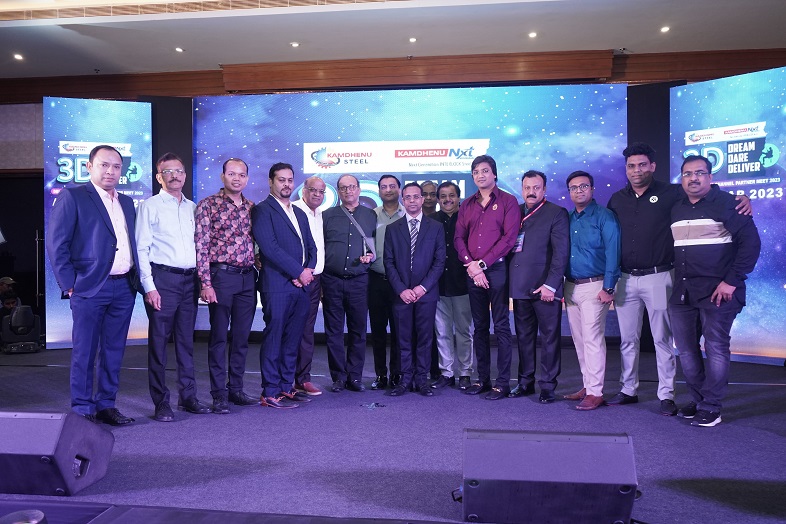 New Delhi, September2023:In a bid to celebrate the success of its channel partners and felicitate them for their exceptional performance, Kamdhenu Limited, India's largest manufacturer and seller of branded TMT Bars in retail, organizeda Dealer's meeting in Amritsar. Dealers from Delhi and Haryana were rewarded with various awards and accolades in numerous categories.
Director of the company Mr. Sachin Agarwal, along with Mr. Rajiv Sharma, Senior GM, and other senior officials of Kamdhenu Limited felicitated the dealers with awards for their performance and motivated them to reach greater heights. More than 300 dealers along with their families participated in the meet. The meet was organised at the Hyatt Amritsar.
During the event, sessions on product familiarization, innovative marketing and business strategies, publicity campaigns, brand awareness campaigns, and the introduction of unique techniques for the enhancement of sales were also organized. The sales target for all dealers of the financial year was also finalized.
Speaking at the event, Mr Sachin Agarwal, Director, of Kamdhenu Limited said, "The vital presence of our esteemed channel partners and dealers as integral members of the Kamdhenu family cannot be overstated. We highly respect their exceptional performance, and this event provides us with the chance to express our genuine gratitude. Furthermore, it allows us to establish more personal bonds, gaining deeper insights into their needs and promoting stronger collaboration. It's a moment of joy and celebration, a time to honor and appreciate our extended family for their remarkable accomplishments, motivating them to strive for even greater success in service of the Company."