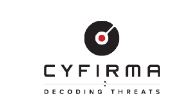 Singapore/Bangalore, July 10, 2023: CYFIRMA, a leading external threat landscape management (ETLM) company today launched the DeCYFIR alert app as a further enhancement to the core platform to provide real-time notification on the latest threats and actionable insights on attack surfaces, digital risk and vulnerabilities, straight to the user's mobile phone.
With the AI-powered DeCYFIR alert app, early warnings are automatically sent and prioritized by time and criticality. The App Dashboard is customizable so users can filter alerts that matter the most based on criticality and alert type. The DeCYFIR alert app is available for iOS and Android thus providing security teams easy access to critical intelligence on the go.
In addition, the app provides users with easy and convenient access to cyber-intelligence alerts wherever they are. Users can receive notifications on their smartphones enabling them to stay informed even when they are away from their desktop computers. This accessibility ensures that critical intelligence is not missed.
Kumar Ritesh, Founder and CEO, of CYFIRMA, says, "In today's rapidly evolving landscape, the significance of harnessing cyber intelligence and gaining external threat visibility cannot be overstated. Monitoring cyberattack campaigns in their nascent stages and understanding the potential impact of an attack is pivotal to implementing an effective defense strategy. In the face of relentless cyber threats, the speed at which accurate and actionable intelligence arrives often determines an organization's success in fending off these attacks. To give the advantage of time, we want to put the DeCYFIR Alert App in the hands of all our customers so that they can mitigate threats before any damage is done."
The company's flagship product, DeCYFIR, arms governments and businesses with personalized intelligence where insights are tailored to their industry, geography, and technology. DeCYFIR provides clients with multi-layered intelligence covering strategic, management, and operational insights. DeCYFIR's ability to combine cyber intelligence with attack surface discovery, vulnerability intelligence, brand intelligence, situational awareness, and digital risk protection sets it apart from the competition. The platform provides risk and hackability scores to help clients prioritize security actions. Clients also receive insights that will enable them to conduct effective intelligence hunting and attribution, connecting the dots between hacker, motive, campaign, and method to gain a comprehensive view of their threat landscape.
With the DeCYFIR Alert App, these insights can now reach customers in the fastest way possible to help them avert any cyber incidents.