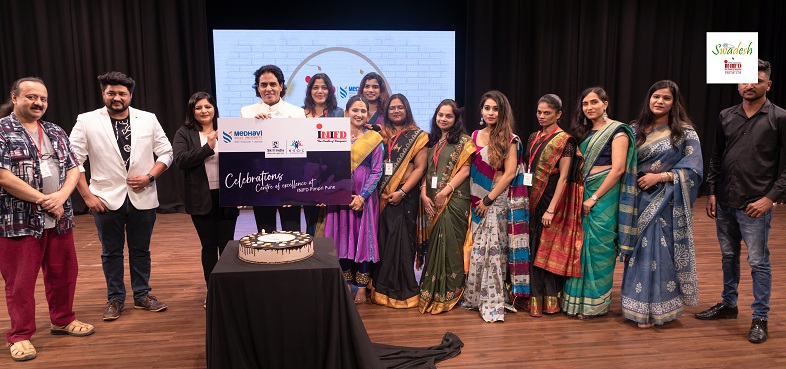 INIFD Pimpri Chinchwad, the Inter National Institute of Fashion Design, marked a historic moment with the grand launch of Medhavi Skills University and NSDC-empowered Degree and Diploma Programs. This momentous event brought together esteemed guests and industry experts, signaling a transformative phase in design education and skill development.
Distinguished Personalities including Aman Verma Bollywood Actor and Celebrity Host, Ms. Shital Thakkar Centre Director INIFD Pimpri Chinchwad, Mr. Abhinav Singh Lead – Brand Alliances and Partnership Jio Creative Labs, Mr. Lovell Prabhu Show Director and Fashion Choreographer, Dr. Sushil Chaudhary Director Skinovate Clinic, Mr. Abhishek Mane Rubaru Mr.India Asia Pacific 2023 graced the occasion. The occasion was followed by a Fashion Show Swadesh by INIFD Pimpri Chinchwad. The event took place on 17th Aug 2023 at The Auditorium Elpro Mall Chinchwad.
Under the New Education Policy (NEP2020), these innovative programs in Fashion and Interior Design will be offered, combining the academic excellence of Medhavi Skills University with the skill-building prowess of the world's largest network of design institutes, INIFD. The collaboration aims to empower students with creative arts and skills, making them employable in the rapidly growing design industry. All degrees, diplomas, and certificates will be authenticated by Skill India and the National Skill Development Corporation (NSDC).
Ms. Shital Thakkar highlighted the growing demand for skilled professionals in the design sector. He stressed the importance of equipping young INIFDians with specialized skills that align with the requirements of the talent market. The curated courses have been designed to be domain-specific and are aligned with the National Credit Framework (NCrF).
Mr. Aman Verma expressed his belief that these courses will strengthen the fundamentals of degree and diploma students and provide them with practical exposure. The practical training offered will enhance their creativity, decision-making abilities, and employment prospects, ultimately granting them UGC-approved degrees of B.VOC, M.VOC, and B.Des, in line with the New Education Policy. He acknowledged the exceptional design skills of the students and inspired their creativity. He enthusiastically embraced the celebratory atmosphere and added excitement to the event through lively dancing and enjoyment.
Speaking at the event, Ms. Shital Thakkar Centre Director, emphasized INIFD's commitment to preparing students for professional excellence by fostering creativity through a career-oriented approach and a global perspective.
INIFD Pimpri Chinchwad, a center of excellence, provides specialized training and exceptional opportunities to students, nurturing their expertise in the field of design. With its exceptional curriculum and industry-oriented approach, INIFD has successfully fostered numerous design professionals over the years. The institute remains committed to providing practical exposure and opportunities for students to showcase their talent on global platforms.
With over 28 glorious years of legacy, the Inter National Institute of Fashion Design (INIFD) continues to revolutionize design education in the country. With a futuristic vision, strategic collaborations, and a steadfast commitment to research, innovation, and entrepreneurship, INIFD remains at the forefront of the rapidly changing dynamics of the design world.