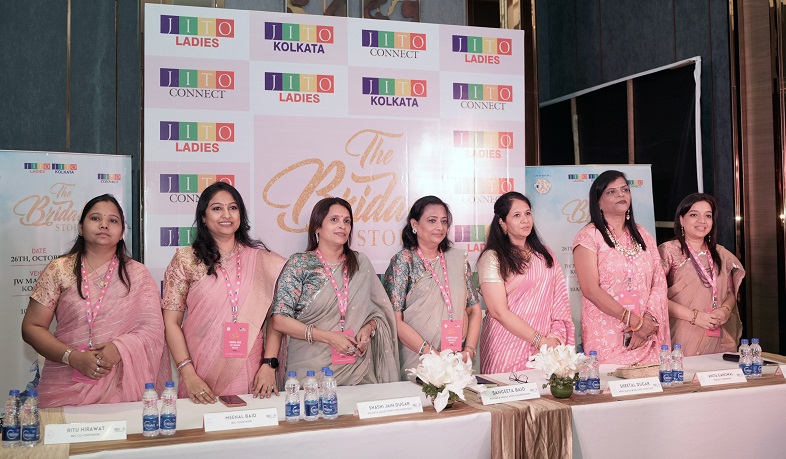 Kolkata, October 2023: JITO Ladies Wing of Jain International Trade Organisation (JITO) unveiled its "The Bridal Story, Where Your Fairy Tales Begins", an exquisite rendezvous for connoisseurs of bridal fashion and exquisite jewelry.
JITO's The Bridal Story aims to showcase ace designers, bespoke jewelry, celebrity make-up artists, and all you need to make it a dream wedding. It promises to be the preferred choice for every future bride, groom, and their entourage. The organisation also curated the best from across the world and brought them together under one roof.
At The Bridal Story – celebrated couture wedding designers from all over India and overseas took part to present their work. The exhibition comprised of crème de la crème of
Exquisite gems and jewellery
Wedding curators/planners
Celebrity makeup artists
Destination weddings and theme weddings
Wedding card/ app designers, trousseau designers, caterers, venue decorators, photographers and many more.
"We want to empower women and educate them so that they can become independent people. The idea behind this exhibition is to give the budding designers and brands to showcase their work and fulfill the dreams of prospective brides and grooms and their families," Ms. Sangeeta Baid, Chairperson of JITO Ladies Wing said.

"The Bridal Story is a magnificent exhibition showcasing a curated collection of bridal outfits and jewelry that embody timeless elegance and artistry. These opulent creations, meticulously handpicked for their craftsmanship and beauty," Ms Sheetal Dugar, Apex Chief Secretary said.

"Wedding has always been one of the special moments of life which is elevated through bridal couture and adornments. The bridal outfits and jewelry collection on display are a testament to their commitment to craftsmanship and elegance, setting new standards of excellence in the industry," Ms. Shashi Dugar Jain, Chief Secretary said.
The Bridal Story included industry magnates, fashionistas, and socialites and a celebration of opulence, a testament to the timeless allure of bridal fashion and exquisite jewelry. The exhibition received a footfall of 1400 customers.
JITO Ladies Wing announced their proposed programme of apprenticeship for women to make them self-sufficient in various works of life. A Women's Premier Cricket League will also be organised by the Wing in January where nine teams from several zones of the JITO Ladies Wing will be taking part.