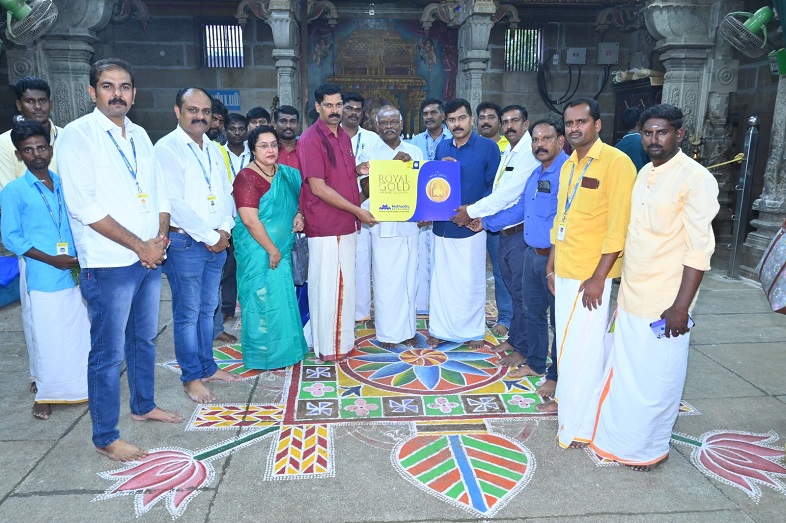 Madurai, September 2023: Celebrating one of the most auspicious festivals in India, Muthoottu Royal Gold, one of the group companies of M Mathew Muthoottu Group, launched its 24-karat gold coin, engraved with the image of Lord Ganesha. Highlighting the importance of Ganesh Chaturthi, this launch took place at Pillayarpatti Karpaga Vinayagar temple, Madurai.
The coin was unveiled by the Managing Trustee, Karaikudi- SAW. GA. Swamynathan along with other trustees, Mr. Thanneer Malai & Mr. Pitchai Kurukkal; and in the presence of Mr. Semon P.V- Deputy Chief Operating Officer (MMFL), Mr. Jisson Thomas- Associate Vice President (MRG), Mr. P. Balasubramanian- Sr. Zonal Manager (MMFL), Mr. Dhanesh Padmanabhan- Manager Sales (MMFL), Mr. K. Nepoleon- RM Madurai Region, Mr. A. Hendry Raja- AM Trichy Region, Mr. Dhananjayan- AM Mana Madurai Region, and Mr. Mubarak Ali- BM Thiruppathur Branch.
The coin is themed around Lord Ganesha, the remover of obstacles, and the God of Wisdom. It is available in four variants: 1gm, 2gm, 4gm, and 8gm, and features a 3D figure of Lord Ganesha sitting with his companion-Divine Mooshak.
Speaking on the occasion, Mr. Mathew Muthoottu, Managing Director, Muthoottu Mini Financiers, said, "We are delighted to launch our new Lord Ganesha gold coin on the auspicious occasion of Ganesh Chaturthi. Lord Ganesha is the remover of obstacles and the God of wisdom, and we believe that this coin will bring good luck and prosperity to all who own it. With the launch of these coins, we intend to engage deeply with our customers and be an integral part of their festivals. The coins also represent our commitment to preserving and promoting the rich Indian art and culture. We hope that this coin will become a cherished possession for our customers and a symbol of their faith and prosperity. "

Mr. PE Mathai, CEO, of Muthoottu Mini Financiers, added, "The launch of our new Lord Ganesha gold coin is a testament to Muthoottu Royal Gold's commitment to celebrating and promoting the rich cultural heritage of India. Through this initiative, we are also promoting a culture of investment among our customers. Even advance payments will enable customers, particularly those with low incomes, to own gold coins. We hope that these coins become a valued possession for our customers for years to come"