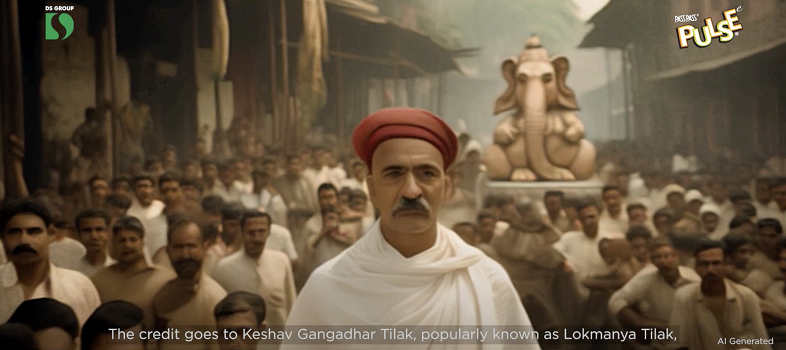 Mumbai, 25 September 2023: In an innovative collaboration, Pulse Candy unveiled a captivating tribute for Ganesh Chaturthi, crafted by artist Arun Nura with a voice-over from actor Shreyas Talpade.
The AI-driven video conceptualized by WRM's AI Solutions narrates the tale of Lokmanya Tilak, the visionary leader who laid the foundation for this auspicious festival in the 1890s. It vividly portrays his relentless efforts during the pre-independence era, as he aimed to reinvigorate patriotism among the people by uniting them through Ganesh Chaturthi.
Announcing this unique initiative,Mr. Arvind Kumar, GM, DS Foods Limited (Confectionery) expressed, "We are delighted to be a part of the vibrant and joyous celebration of Ganesh Mahotsav. This festival embodies the spirit of togetherness, tradition, and devotion, which aligns perfectly with DS Group's values. Through our association with Lalbaugcha Raja and other pandals in Maharashtra, we wish to strengthen our relationship with our consumers by celebrating it together. We invite everyone to join us in this 'Pulse-ful' celebration".

Commenting on this collaboration, Mitesh Kothari, Co-founder and CCO of White Rivers Media, said, "Our delightful collaboration with Pulse Candy seamlessly blends tradition and innovation. With the wizardry of cutting-edge AI, we conceptualized and created a spirited homage to Lokmanya Tilak while celebrating Ganesh Chaturthi."
This collaboration seamlessly combines festive marketing with Artificial Intelligence, intricately weaving together technology and storytelling.